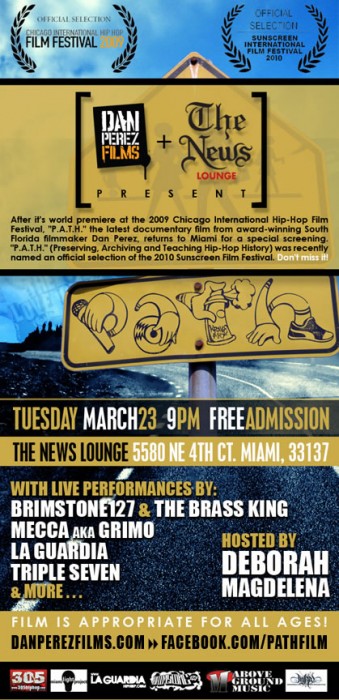 Please join me at a special screening of my latest documentary film "P.A.T.H." @ The News Lounge in Miami on Tuesday, March 23rd @ 9:00pm.
For Immediate Release:
After it's world premier at the 2009 Chicago International Hip Hop Film Festival, a standing room only Florida premier screening in Downtown Miami and a full house for it's Fort Lauderdale premier at Cinema Paradiso, "P.A.T.H." the latest documentary film from award-winning South Florida filmmaker Dan Perez returns to Miami for a special screening at The News Lounge on Tuesday March 23rd @ 9:00pm.
"P.A.T.H." (which stands for Preserving, Archiving and Teaching Hip-Hop History) was recently named an official selection of the 2010 Sunscreen Film Festival (listed as one of the Top 25 "Coolest Film Festivals" by MovieMaker Magazine) and will also be be screened at the Savannah Urban Arts Festival in April. . .don't miss this FREE screening!
For more info, visit: http://danperezfilms.wordpress.com or www.facebook.com/DanPerezFilms