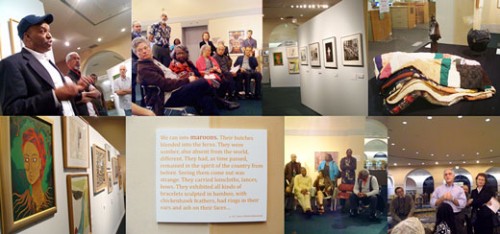 De Word Spoken Amungst We:
Talking About the World through Gullah/Geechee Culture
In conjunction with the exhibition
Gullah Geechee and the 7 Dreams: A project of Gary L. Moore
Thursday, March 25, 6:30-8:30 p.m.
2nd floor exhibition space, Main Library, 101 W. Flagler Street, Miami – 305.375.2665
We invite you to be part of a community discussion about the questions raised by the exhibition Gullah Geechee and the 7 Dreams. A multidisciplinary panel of practitioners will get us talking. They include:
Ralph B. Johnson, founding member of the Gullah/Geechee Cultural Heritage Corridor Commission; Professor, Florida Atlantic University School of Architecture and Director, FAU Center for the Conservation of Architectural and Cultural Heritage
Cain Hope Felder, co-author and editor of the Original African Heritage Study Bible; professor of New Testament Language and Literature at the School of Divinity, Howard University
Peter London, associate professor of dance, New World School of the Arts; visiting Artistic Director Senior for The Martha Graham Dance Company; and faculty member, Alvin Ailey summer intensive program
Noelle Theard, independent photographer and documentarian
For Gullah Geechee and the 7 Dreams, artist Gary L. Moore curated an exhibition based on his perceptions of the Gullah/Geechee culture of his childhood in Pee Dee, South Carolina. The show includes his own sculptural and site-specific work, historical objects and artifacts from private collections, art from the Library System's Permanent Art Collection, and rare books from the Florida Collection. The project makes aesthetic and metaphysical connections between folk culture, spirituality, histories of slavery and revolution, handmade aesthetics, and contemporary art. The 7 dreams of the exhibition's title refer to seven ways the culture has survived, manifested itself and is part of the history of post-slavery African-American culture.
As part of the discussion, we might ask: How do folk cultures, languages and religions continue to be relevant? How does the impact of the encroaching tourist industry on the culture of the Sea Islands relate to development and gentrification in an urban area like Miami? How does this traditional African-American culture relate to contemporary Caribbean art and culture in Miami? Rather than a traditional panel discussion in which a group of "experts" speaks to a passive public, each member of the panel will work with a small group of audience members. At the end of the evening all of the groups will come back together as a whole to share their ideas.
This project has been funded through a grant from the Alternate ROOTS Community Artist/Partnership Program, with support from the Nathan Cummings Foundation and the Ford Foundation.