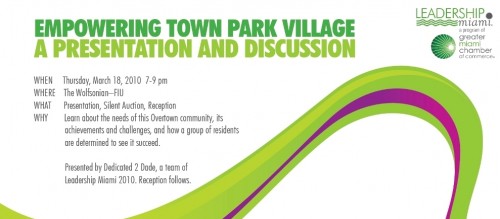 Special Event
Thursday, March 18, 7pm
Empowering Town Park Village—Join Michael Hughes, associate director for development at The Wolfsonian, and his 2010 Leadership Miami team for "Empowering Town Park Village," a Wolfsonian-sponsored fundraising event. Town Park Village is a 147-unit HUD cooperative in Overtown with an active board and senior committee. It opened in 1971 and many of its residents have lived there thirty years or longer. The Leadership team is seeking to raise funds to secure the grounds and fully activate its Youth Resource Center. Join us to meet the community's leaders, learn what the volunteer team is doing, and make a donation to benefit Town Park Village. All contributions will be made through the South Florida Progress Foundation, a 501(c)(3) of the Greater Miami Chamber of Commerce. The presentation and discussion includes a reception sponsored by The Wolfsonian and a silent auction. Donations encouraged. Space is limited. RSVP required: 305.535.2602 or michael@thewolf.fiu.edu.
Empowering Town Park Village: A Presentation and Discussion
When: Thursday, March 18, 2010, 7-9pm
Where: The Wolsonian-FIU
What: Presenation, Silent Auction, Reception
Why: Learn about the needs of this Overtown community, its achievements and challenges, and how a group of residents are determined to see it succeed.
Presented by Dedicated 2 Dade, a team of Leadership Miami 2010. Reception follows.
Please RSVP to 305.243.4599 or dedicatedtodade@gmail.com
This event is made possible through the generosity of The Wolfsonian-FIU, Club Med, and Dedicated to Dade.
The Wolfsonian-FIU
1001 Washington Avenue, Miami Beach, Florida