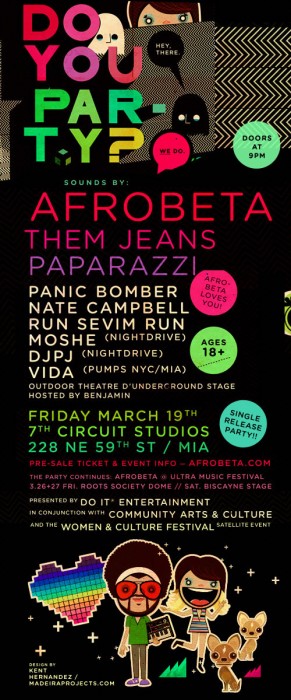 Afrobeta celebrates their EP release at 7th circuit studios on Friday, March 19th, 2010. The local Miami duo is asking YOU Do You Party?
Afrobeta and friends invite YOU to get down with the Miami music scene to celebrate their first EP release on Friday, March 19th. In conjunction with Community Art and Culture they'll be shaking it down at 7th Circuit Studios. It is also a pre-performance to their ULTRA Music Festival show.
Date: Friday, March 19 2010
Event: Do You Party? Afrobeta EP release event
Location: 7th
Circuit Studios
Address: 228 NE 59th
street Miami Florida 33137
Time: 9pm to 5am
The acclaimed winners of the Miami New Times Battle of Bands and one of the headlining acts to perform at this year's Ultra Music Festival is ready to release its much anticipated EP. Cuci Amador and Smurphio met 3 years ago at a Suenalo show, which later became a musical marriage between the two. They have swept the Miami local scene by storm with their unique funky synths, skittering beats, infectious melodies, Cuci's sultry voice, swinging hips, and colorful plumage; and Smurphio by his frenetic fingers, booty basslines, and impressive towering mane.
The duo invited an eclectic mix of local and national acts to join the celebration: Panic Bomber, Run Sevim Run, VIDA (Pumps/nyc), Nate Campbell, DJPJ and Moshe of Nightdrive and very special guests-LA famed DJs, THEM JEANS and Paparazzi. Outdoor stage hosted by Benjamin of B.Y.O.Beats. Video Visuals by genius: Chris Video. Food by: Jeremiah in the Gastropod.
Afrobeta's EP will be available for FREE on the night of show.
Pre-sale tickets and event info log on to: www.afrobeta.com . $10.00 at the door.
18 and over are welcomed.
www.afrobeta.com
www.7thcircuit.tv
www.myspace.com/djthemjeans
www.myspace.com/paparazzi
www.ultramusicfestival.com
www.panicbomber.com
Miami Nightlife
Thank you for using Soul Of Miami!