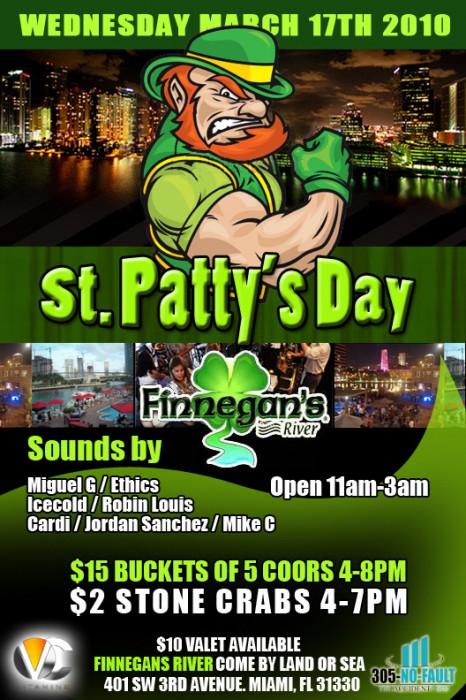 What and Who: Vitamin C Communications and Finnegan's River, will host its 2nd annual St. Patty's Day celebration. The festivity begins at 4pm at the only Irish waterfront pub, where you can arrive either by land or sea. Guests can take advantage of $2 stone crabs from 4 – 7pm and buckets of 5 Coors beers for $15 from 4 – 8pm. With an impressive line-up of talented DJs and unbeatable food and drink specials, the event ensures there's plenty of fun to last until 3am.
Music by DJ Miguel G, Ethics, Cardi and DJ/ Producer Robin Louis.
Register for your chance to win a $200 office bar tab at www.getluckygogreen.com
When: Wednesday, March 17th, 2010, Celebration starts at 4pm
Where: Finnegan's River, 401 Southwest 3rd Ave. Miami Florida, 33130
About Vitamin C Communications
Vitamin C Communications is a full-service marketing and events company with a vast network of contacts and affiliates which has produced some of the most respected and talked about events in the South Florida region. As one of the fasted growing companies, Vitamin C provides countless special events and specializes in bringing innovation and creativity to corporate and promotional clients associated with Miami's social life.
Our marketing campaigns are done in-house, using a strong viral program while keeping our traditional grass roots tactics. Our growing portfolio consists of venues, lounges and restaurants such as: Florida Room at The Delano Hotel, The Shore Club, The National Hotel, Novecento and Blue Martini. Collaborating with the industry's most recognized DJ's, designers, artists and entertainers, allowing us to create an unforgettable experience bringing every vision to life.
About Finnegan's River
Sports bar and Irish Pub combined in a sprawling space right on the Miami River with view of downtown. Many arrive by boat and dock for lunch or dinner. The owners took over a closed marina and developed it into a neighborhood hangout, adding a patio, pool, pub bar and raw bar. Home to many year round festivities including, Cinco de Mayo, 4th of July, New Year's Eve, and of course… St. Patrick's Day.