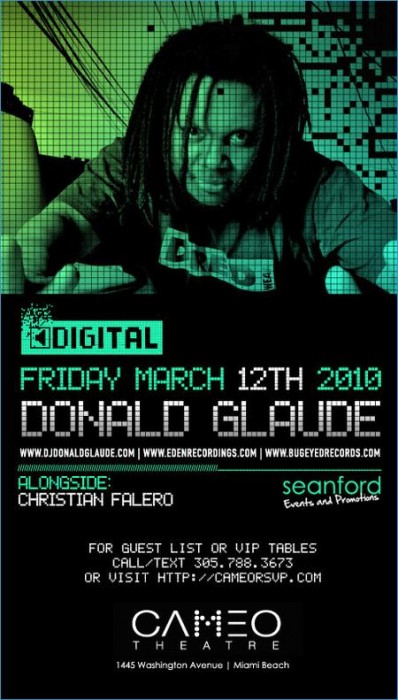 March 12, 2010
Donald Glaude spins live at Cameo
Friday, March 12th, 2010
complimentary admission, but you must rsvp.
Please tell the door girl you are on Sean Ford's Guest List.
guarantee your vip experience by reserving your vip table today.
bottle specials are available for those who rsvp in advance.
call 305.788.3673 or visit http://cameorsvp.com to rsvp.
For more information, please call/text Sean Ford at 305.788.3673.
A veteran DJ for over 15 years, Donald Glaude has cemented his reputation as a crowd-rocking favorite and one of the most in demand artists in the country. He is one of those rare DJs who perceives their role to be that of an all-around entertainer and performer. He exudes energy, dropping track after funky track, arms aloft, and has been known to join the dancers on the floor. It is the combination of these ingredients that have helped him create a unique connection with his audience. Experience him for yourself as Digital presents Donald Glaude at Cameo.
Miami Nightlife