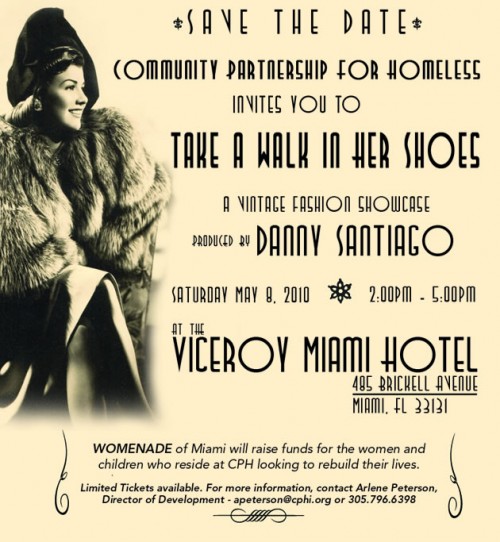 Save the date for "Take a Walk in Her Shoes," a vintage fashion showcase and fundraiser event hosted by Community Partnership for Homeless. The event takes place on Saturday, May 8th at 2 pm at Viceroy Miami.
Please join me on Saturday, May 8 for an inaugural event that will help us define the future of thousands of women and children who are working past homelessness. Take a Walk in Her Shoes is an event like you've never seen before.
You won't see the latest in fashion; rather, we'll take you on a visual journey from the 1920's through the 1970's. We are celebrating the women who have the courage to walk a new path, everyday.
The tickets you purchase to attend this event will provide critical funds that will help us to continue to provide healthcare, dental care, day care, after school care, case management, job and housing placement, and psychiatric care right on-site. Tickets range from $75 General Reception, $100 Cabana Seating, and $200 VIP seating.
Please don't wait to make a difference, click here to show your support, right now. (Tickets are limited, so don't delay your registration!)
If you can't attend, but want to make a donation, please visit, www.cphi.org. The invitation is attached in case you would like to forward to your spouse, family members or friends…
All the best, and thanks for your support.