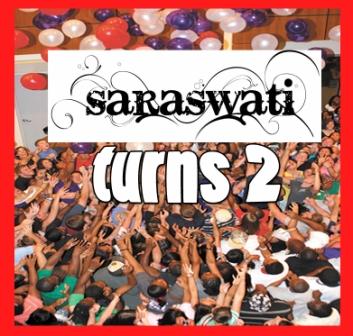 My, my how time flies! Its been 2 years since we began Saraswati and since many of you may be wondering- where did Saraswati come from and how did we get the inspiration to put together our events, I decided to share the story with you on our website www.SaraswatiMiami.com– complete with videos and pics of our journey thus far.
And if you're in Miami this week, join us Thursday, February 25, 2010 at 10pm for our Anniversary Celebration in conjunction with Oasis in the back room of Purdy Lounge (1811 Purdy Avenue, Miami Beach). We are having a very special DJ from Boston, Max Pela who will be playing the best Afro, Latin, House and World music with our resident DJ Ivan Diaz. To find out more about Max Pela check out his podcast www.AfrobetaBodega.com
As always the party will be hosted by Miss Angelina www.Globaile.com who will be gracin' the mic with a special performance along with Ade on the percussions.
Come celebrate this mile marker with us because Saraswati's success could not have been possible without your support.
Miami Nightlife