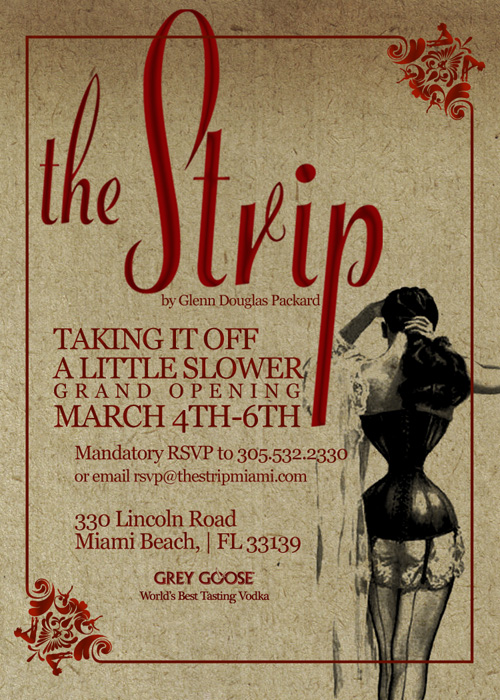 This has now been unexpectedly delayed until next week. The launch dates are now scheduled for the following week – March 4, 5, and 6.
New Miami Beach Nightclub Serves Up Daring Burlesque at The Strip
South Beach Club Takes the Lead in Showcasing World Class Performance Art
In the heart of South Beach, The Strip, a new exclusive nightclub is setting a new bar for nightlife entertainment. The décor is best described as the Golden Age of Hollywood and you'll feel as if you just stepped into a very naughty femme fatale's boudoir: plush velvet seating, suspended swings, 12-foot crystal chandeliers, and walls covered with leather, fringe, and feathers — creating the perfect pleasure den to showcase burlesque and cutting-edge performance art. The Strip will leave you breathless with its raw sex appeal.
The Strip has pulled together a "Dream Team" of entertainment that will create the buzz and define the Strip. Emmy nominated Glenn Douglas Packard , says, "The Strip is going to be a new pleasure playground in Miami Beach." Packard has worked with the likes of Michael Jackson, Pink, Usher, and Missy Elliot. DJ Jeffrey Tonnensen , has performed at top events around the globe and now he is music stylist for The Strip. His diverse sets at Socialista, Beatrice, and Gold Bar have been the dance soundtrack of downtown Manhattan nightlife and now he is crafting the musical identity for The Strip. Words can't describe WildChild. Adding a strong dose of sexuality to his acts, he is contortionist and a chameleon, always mesmerizing and always surprising — making him a true performance artist without peer. Performer, vocalist and songwriter Tokyo Diiva is living art and describes her style as "A living caricature with a sprinkle of animation!" Add tantalizing VIP hostesses and you've got a phantasmagorical mouthwatering icing on the cake.
Designed by Lisa Halloran, the nightclub is on two open levels, yet the space feels intimate rather than cavernous and state-of-the-art technology reigns. Available for private parties, product launches or special events, The Strip is located at 330 Lincoln Road in Miami Beach and is scheduled to open Thursday, March 4, 2010. For reservations call 305.532.2330 or visit www.thestripmiami.com.
Management Team: The Strip boasts a management team with over 50 years combined experience in the nightlife entertainment industry:
Eric Levin: Heading the team, Eric knows the secret to success in the South Beach nightlife scene having founded some of the most recognized restaurant and lounge concepts throughout South Florida. The Chili Pepper (South Beach, Atlanta and Fort Lauderdale), Rumi in South Beach, and Karma in Atlanta, to name a few. The Founder of Pro Access, Eric works with the biggest names and properties in the entertainment industry including the National Football League, Universal Playboy Enterprise, IMG, Wilhelmina and Ford Models.
James Butler: Currently the host of the top rated and three-time IDMA nominated Crobar Bora Music House Cast in iTunes, Butler is no stranger to South Beach nightlife. He has over 20 years experience managing top nightclubs around the globe including Nerve, Amnesia, Nikki Beach, Crobar and Shadow Lounge Venezuela. Butler credits the most exciting time in his career to working under Prince at the infamous Glam Slam. James has produced shows during the Winter Music Festival with top talent and uses his background in theatre from the American Academy of Dramatic Arts to carve out new territory within nightlife entertainment.
Miami Nightlife