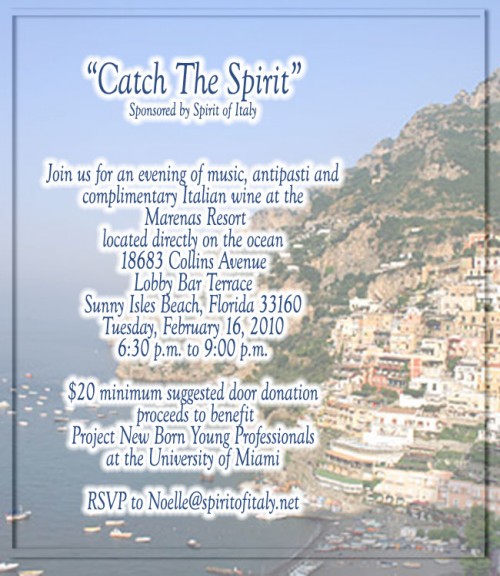 I hope you can join us for this special evening at the Marenas Resort which will benefit Project Newborn Young Professionals at the University of Miami.
Please RSVP to Noelle@spiritofitaly.net.
I look forward to seeing you on Tuesday the 16th!
PROJECT NEWBORN YOUNG PROFESSIONALS AT UNIVERSITY OF MIAMI
Project: New Born is a nonprofit philanthropic organization founded in 1973 by a group of committed and dynamic women who devoted themselves to raising much-needed funds for maintenance and support of the Project: New Born Neonatal Special Care Center, a facility for imperiled premature and high risk infants located at the University of Miami/Jackson Memorial Hospital. In 1986 Project: New Born was joined by the Infantry, an offspring group of young energetic men and women, dedicated to the same goals and pledged to support the annual funding necessary to provide the best possible care for the babies. The organization has raised large sums of money and has pledged to continue to do so! Fund raising occurs through annual dues, through an annual luncheon and gala as well as other events, and through plaques in honor of or in memory of family or friends, which are displayed outside the Project: New Born Neonatal Special Care Center.
SEA + SAND COME TOGETHER AT MARENAS
18683 Collins Avenue
Sunny Isles Beach, FL 33160
305.503.6023
Marenasresortmiami.com
Marenas Resort is a beachfront hotel with all-balcony accommodations in Sunny Isles Beach, midway between Miami and Fort Lauderdale.
Here turquoise waters touch powder-soft sand. Sun-drenched sanctuary merges with a must-go destination near South Beach and Fort Lauderdale. International vibe mixes with modern style. This is harmony. This is Marenas.
A member of Preferred Hotels & Resorts, Marenas [mah-rén-as] stands on Florida's Riviera, Sunny Isles Beach, surrounded by the Atlantic Ocean and Biscayne Bay. Here you're just a few steps from our spectacular terrace to a glorious 2.5-mile stretch of beach. Small wonder our name comes from a blend of sea and sands, mar y arenas.