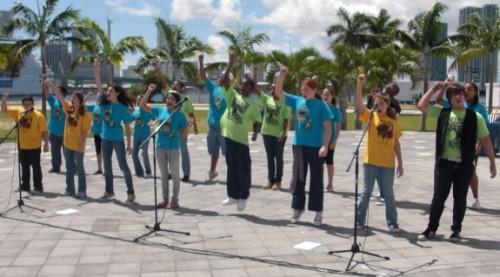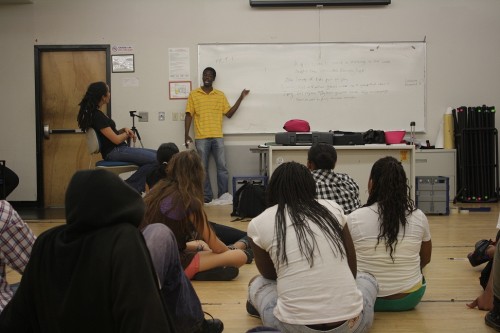 Voices United, An All Kids Arts Organization Presents A Special Screening Of Voices United: The Documentary
Saturday, February 6, 2010 @ 7:00pm., St. Christopher's Church, Key Biscayne
WHAT: Voices United (VU), a non-profit arts organization for children, is proud to present a special screening of Voiced United: The Documentary, created by VU Alumnus and Miami Native, Arlyn Richardson. This heartfelt documentary focuses on VU's unique process of enabling children to express their concerns and ideas through writing their own scripts, composing music, developing choreography and creating their own scenery.
WHO: Arlyn Richardson, Miami Native and VU Alumni, is a film maker and director. He is based in Los Angeles California and has worked on feature films such as Blood Diamond and The Last Samurai. Compelled by VU's enormous influence on his childhood, Richardson, focused the documentary on the performance process, interviews with current and past participants and its Founder, Katie Christie.
WHEN: Saturday, February 6, 2010 at 7:00 p.m. Admission is $5.00 and includes gourmet pizza, popcorn and refreshments.
WHERE: St. Christopher's By-The-Sea Church, Parish Hall, 95 Harbor Drive Key Biscayne, FL 33149.
INFORMATION: Voices United is a non-profit youth organization that promotes cross-cultural understanding through the arts. To purchase tickets for Voices United: The Documentary, please call 305-726-4822, email Katie@voicesunited.org or visit www.voicesunited.org.
Photos attached: 2173, jpg. Caption: Arlyn Richardson, Voices United Alumnus and Miami Native, conducting a session about film making to the VU kids. 1234, jpg. Caption: Voices United students during a performance in Quebec, Canada at the World Youth Congress.