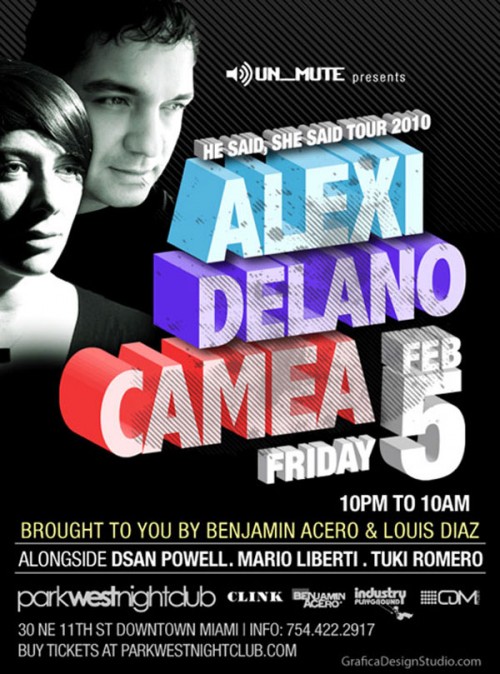 This Friday, February 5th, for one night only, Parkwest Nightclub opens it's doors to host the Miami stop of "He Said She Said" tour brought to you by Un-Mute, featuring two of dance music's most innovative artists, Alexi Delano and Camea for over 10 hours of non-stop madness.
A veteran of the global dance scene, Alexi Delano has been tearing up dancefloors for over two decades now. This Chilean-born, Swedish-raised studio perfectionist was part of the first wave of Swedish techno producers to originate of out that country in the early 1990s, including Adam Beyer and Joel Mull. With dancefloor devastators such as "Would You?", the acid house classic "Believe Me", and recent fave "Echolocation" (released on Richie Hawtin's Plus 8 imprint), Alexi's sound bridges the sometimes vast gap between the worlds of house and techno.
Starting her musical career as a classically-trained pianist and clarinet player, Camea, described as a fusion of "Seattle cool and Brooklyn edge" has been taking the techno and dance world by storm. From small, underground clubs to crowds numbering in thousands, Camea is recognized for her intelligent, fun music selection and outgoing stage presence, which has earned her a valuable reputation worldwide. She is known for her extended DJ sets, sometimes playing up to 8 hours or more, a rare thing these days. As head of her own label, Clink Recordings, Camea's productions, such as the hit, "Voiding The Fill", have found their way into the bags and laptops of Richie Hawtin, Magda, Loco Dice, Pan-Pot and many others.
Joining these two titans this evening will be local stars Dsan Powell, Mario Liberti, and Tuki Romero. Doors open at 10 PM sharp.
Click here for tickets.
Miami Nightlife