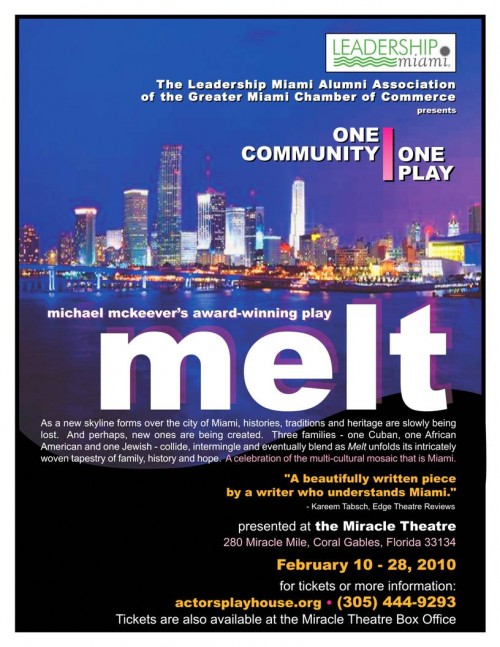 A must for all cultural arts enthusiasts!
The Leadership Miami Alumni Group selects a community service project each year for "incubation" which is designed to sustain the project and continue its introduction into the community. This year they have selected the community service project "Diversity through the Arts."
Set against the backdrop of a growing skyline, diminishing affordable housing and the necessary interaction of Miami's different cultures, Melt tells the story of an African American brother and sister, a Jewish father and son and a Hispanic mother and her son who find their lives intertwining over social and moral issues as seen from the perspective of each culture. The Leadership Miami Alumni Group believes that the "incubation" of this project in a 'ONE COMMUNITY, ONE PLAY' event will have a positive impact on the nature of the ongoing community discussion about the diversity of our population.
With today's economic situation, we are seeing more stress on our community and it is even more important now than ever that we address the problem by easing the tension and bringing our community together in new and artistic ways. The Group will fundraise to donate to the community approximately half of the tickets (2,000) to various relevant groups, such as, community based and civic organizations, high school students, academicians, clergy and members of local fire and police departments to truly make it a 'ONE COMMUNITY, ONE PLAY' event. Talkbacks with community leaders about the experiences garnered during and after the play are an essential part of the project and will take place both on stage and via social media.
In order for The Leadership Miami Alumni Group to make this worthwhile project possible we will need our community's support. If you or you know of someone who would like to get involved either through volunteer efforts, audience development, marketing, or fundraising please let me know.
Tickets can be purchased at www.actorsplayhouse.org and all money raised goes to the South Florida Progress Foundation, a not-for-profit charitable organization 501(c)3.
Please join our Facebook page and contribute to the ongoing discussion about the Play by visiting this link http://www.facebook.com/profile.php?ref=profile&id=5307448#/pages/MELT-One-CommunityOne-Play/211927847720?ref=mf