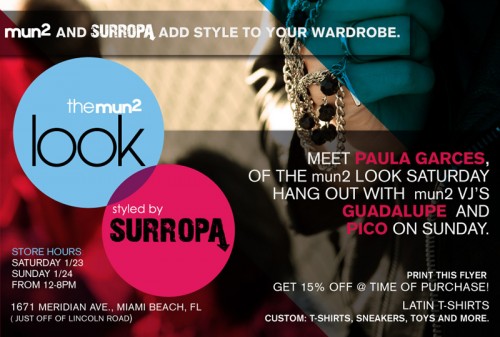 MUN2 & SURROPA POP-UP STORE IN MIAMI BEACH
This weekend only!
Kick-off party – Friday January 22nd at Bar 721
Mun2 is kicking off a new show called The Mun2 Look. They have asked SURROPA
to create a special pop-up retail store, to mark the occasion, from Jan 22nd – 24th in Miami Beach, FL.
The event kicks off on Jan 22nd at Bar 721 (721 N Lincoln Lane, Miami Beach) with a cocktail reception, DJ set by Mr. Pauer and food catered by Latin Burger, owned by celebrity chef, Ingrid Hoffman (who knew that even a burger would taste that much better with a little Latin flare).
If you're interested in attending, send an email to info@surropa.com and you'll be on the guest list, or you can RSVP directly on the Surropa Facebook page. Only those on our list will be admitted to this event.
The store, located at 1671 Meridian Ave (next to Macy's), will be open the night of the 22nd from 7PM-11PM as well as Saturday and Sunday from 12PM-8PM. SOBO artists will be customizing Vans slip-ons and Kid Robot Munny's toys. SURROPA also have this amazing t-shirt printer that will print any phrase you can think of (keep it clean please). Come stop by and check out some really cool Latin and Latin-inspired brands and products (nothing you can find at any other store in Miami, promise).
Mun2 will also be filming throughout the weekend, so who knows, you may even get on TV. At the very least, you can meet Paula Garces, the new host of The mun2 Look will be there from 12-2 on Saturday (guys trust us, you won't be disappointed). For you women, Guad Venegas, the host of 18 and Over and Pico from The mun2 Shuffle will be hanging out at the store on Sunday from 12-2PM.
Those of you in Miami, who plan to attend, make sure to print out the flyer at the top to receive a 15% discount on your order. Those not able to attend, SURROPA have something for you as well. Use the coupon code "themun2look" at the checkout area of surropa.com and you'll receive a 15% discount off your order (good through 1/26).
Surropa.com Pop-up store – 1671 Meridian Ave., Miami Beach, FL 33139 (next to Macy's)