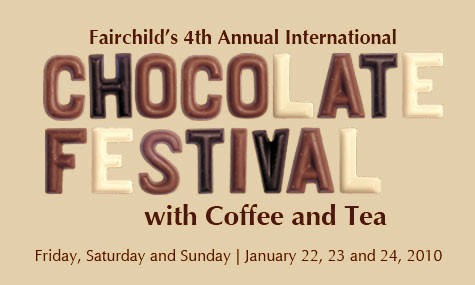 4th Annual International Chocolate Festival with Coffee and Tea
When: Friday, January 22, 2010 – Sunday, January 24, 2010 from 9:30 AM to 4:30 PM
Where: Fairchild Tropical Botanic Garden
Description: Join us for Fairchild's 4th Annual International Chocolate Festival Featuring Coffee and Tea. There will be three days of chocolate treats, delicious cups of coffee and soothing cups of tea. Don't miss, chocolate samples, cacao tree sales, the ChocoKids area, cooking demonstrations, our ChocoWalk, a chocolate cake and cupcake contest, informative lectures and much, much more.
View the entire 4th International Chocolate Festival program.
What To Do at the 4th International Chocolate Festival
Learn how chocolate is made…the entire process is displayed at the Whitman Tropical Fruit Pavilion.
Go on the Chocowalk and see cacao trees growing in Fairchild's Rainforest.
Enjoy samples from local chocolatiers, then purchase some to take home! Vendors include Romanicos, Oliver Kita, Rocky Mountain Chocolate Factory and more.
Buy your own cacao tree- while not easy to grow (very cold sensitive) you can grow them in South Florida. Also available are the deliciously fragrant "Sharry Baby" orchids with a scent of pure chocolate.
Learn from some of Miami's best chefs at our Whole Foods Cooking Demo Tent- all three days. You can observe how to make all every type of chocolate dish available, from savory to sweet.
Learn how chocolate grows and about its native habitat, the rainforest.
Attend lectures on growing cacao and coffee in South Florida, learn from the world expert on the biology, breeding and DNA of cacao.
Take a break and relax in our Chocolate Spa, under the Chickee Hut lakeside, you can get a mini massage or try a chocolate sugar scrub from Sinful Scrubs.
Enjoy great food– from chocolate crepes to churros dipped in chocolate to grilled chicken with mole.
Admission: Free to Fairchild members and children 5 and under. Non-members: $20 for adults, $15 for seniors 65 and up and $10 for children 6-17.