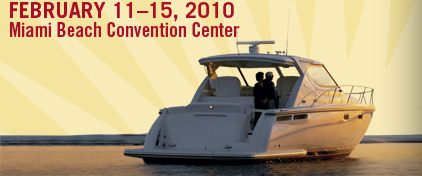 Miami International Boat Show
Buy Tickets online & get MORE for your money!
Tickets purchased online include a one-year subscription to one of the following magazines: Yachting, MotorBoating, Spa, Cruising World, Soundings, or Transworld Surf.
NEW— 5-Day Pass: Just $75! Includes admission all five days of the show, including Thursday's Premier Day!
Save $2 when you buy a 2-Day Pass: Just $30 per person, valid for admission any two days, Friday through Monday. Buy Now & Save!
Miami Boat Show/Coconut Grove Combo ticket: Admission to both the Miami International Boat Show & Strictly Sail & the Coconut Grove Arts Festival, just $19 for Adults or $6 for Youth (13-15 years old). Valid any one day—Saturday, Sunday or Monday. Purchase the Package!
See the best in boating from around the world at the Miami International Boat Show & Strictly Sail! There's no better place to shop and save on boats, marine gear, electronics and accessories.
Pre-Shop The Show!
Visit Miami BoatShow.com to preview the show's boat inventory—you can search by brand, model, size and more. You can schedule dealer appointments, too.
Show Highlights
• An Evening with Chris Fischer: Expert angler and host of the National Geographic televsion series Expedition Great White will be on hand for a presentation and autograph session. Details here.
• Block Parties: Celebrate the South Florida sunsets with food and drink specials Friday, Saturday and Sunday evenings. Check it Out.
• Affordability Pavilion: You CAN afford to buy a boat—shop this special showcase featuring boats you can finance for less than $250 per month.
• Big Game Room: The world's premier big game fishing expo celebrates its 7th year with the best in sport fishing boats and gear, plus seminars, and other special attractions. Learn More.
• Park & Ride Special—Just $10! Service sponsored by Raymarine from American Airlines Arena.
• Discover Boating Photo Contest: Capture the spirit of the boating lifestyle in photo for your chance to win great prizes including an Adirondack Pack Boat, $500 Show Shopping Spree and more! Click for Details.
• PLUS… the debut of the Guy Harvey Artist Pavilion, U.S. Coast Guard's First Mate's Course, Yoga Onboard seminars, Free Kids' Boat Building Contest, and much MORE!