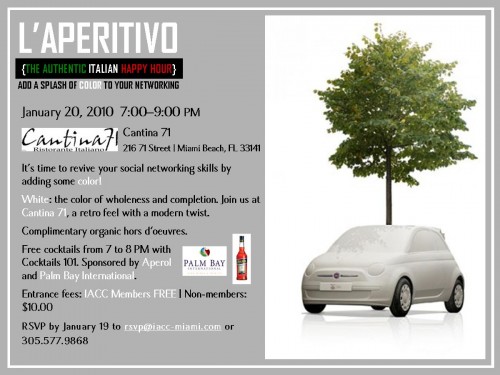 Cocktail 101 @ L'Aperitivo
Beginning with January's Aperitivo until the end of this 2010 series, from 7 to 8 PM, you are cordially invited to Cocktail 101!!!!
At every event, one of Aperol's top bartenders will present a variety of inviting ideas on how to enjoy the distinctive taste of Aperol in innovative new cocktails.
Each time, the bartenders will show you how to make 4 different superb drinks that you will be able to enjoy and share with your friends right then and there. You will also receive the recipe cards for the night's selected cocktails. Attend all of the upcoming Aperitivos and every time collect four recipes to keep practicing at home.
Thanks to Aperol and Palm Bay International, by the end of the 2010 Aperitivo series you will become a pro in this alluring "art".
Bring 5 friends to the Aperitivo and you will get a reward: a FREE One Month Membership at DavidBartonGym – Gansevoort Miami Beach!