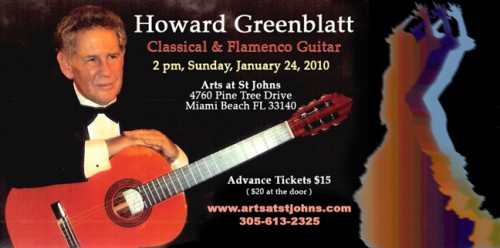 Join Us on Sunday, January 24th at 2pm
at Arts at St Johns on Miami Beach for a live
Flamenco and Classical Guitar concert
with Howard Greenblatt!
JANUARY 24th, 2 pm at Arts at St Johns
4760 Pine Tree Drive, Miami Beach, FL 33140
Howard Greenblatt – Classical & Flamenco Guitar
Selections from Gaspar Sanz, Nino Ricardo, Heitor Villa-Lobos, Francisco Tarrega, Esteban de Sanlucar, and Isaac Albeniz, plus traditional Flamenco pieces arranged by
Dennis Koster and Carlos Montoya.
FLAMENCO (from guitarist.com) is a particular kind of music/dance (and some would say lifestyle) native to, but no longer restricted to, a small region of Andalucia in Southern Spain. Like American "blues" it probably has ancient antecedents, but as a distinct genre is only a couple centuries old. Not all Andalucian folk music is flamenco. Not all flamenco artists have been Andalucians (e.g., Sabicas), or even Spanish (e.g., Greco). Info continues here.
RESERVE YOUR TICKET NOW and Save $5.
Advance tickets online $15. At the door: $20.
More info: artsatstjohns.com, or call 305-613-2325.
MISSION: To present arts and culture programming that builds community, encourages dialogue about social issues, & provides transformation through the arts. Socially Responsible Arts!