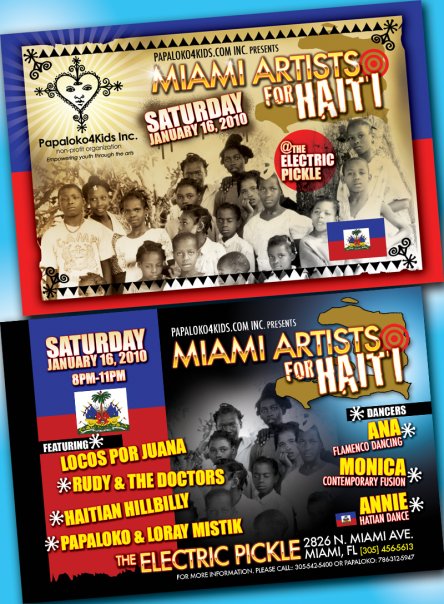 Saturday, January 16, 2010
8:00pm – 11:00pm
ELECTRIC PICKLE
2826 North Miami Avenue, 33127
Miami, FL
Thank you to everyone who has donated supplies so far to the TRUCK on 1ST & ALTON. We know that President Clinton was on the news telling people to stop donating supplies and to only donate money but we are working directly with PROJECT MEDISHARE, which is the only organization besides the military that is flying in and out of Haiti. In fact our 1st shipment left Miami today @ 2pm!
So please continue to drop off food, water, medical supplies, tents, baby supplies, candles, flashlights and any other survival items. We will be there until midnight Sunday.
Please Join us this Saturday at the ELECTRIC PICKLE for an All-Star Miami Jam benefiting the victims on Haiti. 100% of the proceeds go directly to Project MediShare. Suggested minimum donation is $20.00
Confirmed Artists:
– Locos Por Juana
– Papaloko & Loray Mistik
– Rudy & The Doctors
– The Haitian Hillbilly
– MORE TO COME…
The event will also feature other performing artists and Belly Dancers. If you are a local artist that wants to get involved, please contact Jeff Feldman at 305-542-5400
Drink Specials All Night and the weekly POPLIFE party starts promptly at 11pm!
Stay tuned for more details and Please forward this invite and donation information on!
Thank you again for all of your open hearts and action!
Dirk DeSouza & Jeff Feldman
Project Medishare for Haiti, Inc., a 501.3 non-profit registered in the State of Florida, was founded in 1995 by Drs. Barth Green and Arthur Fournier from the University of Miami School of Medicine.
It is an organization dedicated to sharing its human and technical resources with its Haitian partners in the quest to achieve quality healthcare and development services for all. This mission is accomplished through two distinct but complimentary programs which now frequently intersect, such as the Community Health Program and the Integrated Community Development Program.