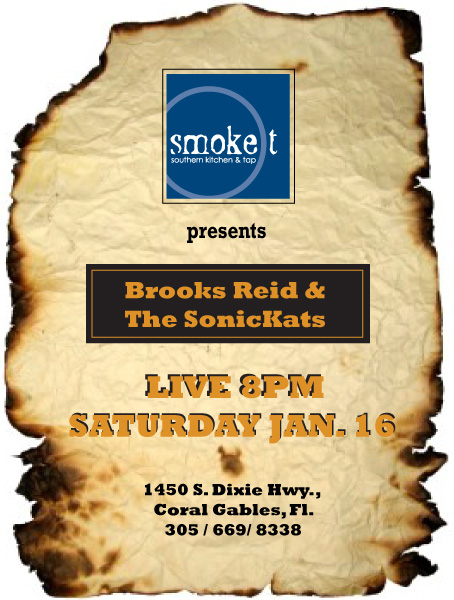 SMOKE'T SOUTHERN KITCHEN & TAP SETS MIAMI ABLAZE
Sophisticated Spin on Classic BBQ & Soul Food Faves
Marks Uncharted Territory on Coral Gables' Dining Scene
The culinary team behind South Miami's highly-successful TOWN Kitchen & Bar (TOWN), "A Neighborhood Joint," announced today the debut of their latest dining destination:
Smoke't Southern Kitchen & Tap
1450 South Dixie Highway, Coral Gables
"A Neighborhood BBQ Joint." With Smoke't, co-owners Brandon Lurie, John Janette and Michael Altman, executive chef at both TOWN and Smoke't, infuse cosmopolitan Miami with Deep South flavor, re-interpreted.
Through hundreds of tastings, Altman and his team developed Smoke't's inventive, Southern-inspired menu items, such as Pepper Jack Cheese-filled Hushpuppies, and BBQ Pork Red Neck Rolls with Blazin Sauce (a creative transformation of sushi from Japanese cuisine to down home BBQ flavored meats and fixins' wrapped in sticky rice) filled with Cole Slaw, served with a Homemade Spicy BBQ Dipping Sauce.
"The menu was really important to us," said Altman. "We wanted sophisticated southern food which, until now, didn't exist in Miami."
As pit barbecue is one of the most important styles of food in Southern cuisine, Smoke't showcases various flavors from U.S. barbecue capitals, all prepared on its in-house smoker, including Shredded Brisket with a Texas style BBQ sauce, Kansas City baby back ribs, Memphis style dry rub spare ribs and Carolina pulled pork. Rated "Best BBQ Sauce" by Jack Daniels Grill Your Eats South Beach, Altman's knock-your-socks-off original creation is featured in most of Smoke't's offerings.
Traditional specialties include deep fried chicken on waffles, brussel sprouts, country fried steak, cornbread, mashed potatoes, fried catfish and berry cobblers. Smoke't also serves southern-influenced salads and sandwiches. Smoke't has even created a kids menu since even kids can't resist many of Smoke't's offerings. The adults won't be able to resist either with Smoke't's affordable menu pricing.
At 5,000 sq. ft., Smoke't has capacity for more than 200 guests. Lounge-style furniture, cozy banquettes and roomy tables ensure a right-at-home feeling, where patrons are the center of attention. Eclectic artwork, antique décor elements and clever, eye-catching design features, like in-wall wood storage (for the smokers), round out Smoke't's casual yet chic ambiance with a touch of whimsy. The restaurant also features a club-style sound system for upcoming LIVE, classic rock music performances on their stage that highlights a Yamaha piano.
Ten flat screen televisions, a shuffleboard table and outdoor seating make Smoke't a perfect spot for a light bite or drink. Smoke't's bar features 12 beers on tap, in addition to the 87 other beer selections and food items on its extensive bar menu.
In the months ahead, Smoke't will launch an extensive wine program.
Smoke't Southern Kitchen & Tap is open: Lunch will be served beginning early February, daily from 11:30 AM to 5:30 PM.
Dinner: Sunday – Tuesday 5:30 PM – 10:00 PM
Wednesday – Saturday 5:30 PM – 11:00 PM
For reservations, please call 305.672.0011. Additional information about Smoke't Southern Kitchen & Tap can be found at www.smoketbbq.com.
Smoke't Southern Kitchen & Tap
Entertainent / Happy Hour
Daily/Nightly Happy Hour
Monday thru Friday 3:00 – 6:00
Sunday thru Wednesday 10:00 pm – Close
Booze – Well Drinks $4.25
Wines – Wines by the Glass $2 bucks off
Draft Beer – 12 oz. PBR $2 bucks
Draft Beer – All 16oz. Pints $5 bucks / pitchers $19
Martinis – Specialty Martinis Half Off
Margaritas – "Texas Sized" 27oz. Frozen Margarita $9 bucks
Chow – Wing Special – get a dozen wings for $6 bucks
Chow – Pulled Pork Sliders w/fries 2 for $5 Bucks
Wednesday Ladies Night
Wednesday Nights 3:00 – Close
Sorry ladies, Lounge area only!
1/2 off Frozen Margaritas
1/2 off Signature Martinis
1/2 off all Wines by the Glass
1/2 off all Appetizers
Live Music @ 8 Pm Sharp
Thursday Night "Unplugged"
Saturday Night "Wired"
Friday Night House Dj @ 10 Pm
Funky sounds of house & electro rock
Reggae Brunch Sundays
Coming Soon
College Night Thursdays
Stay Tuned