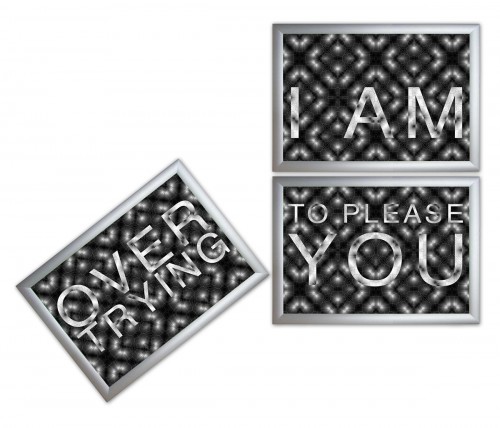 Calix Gustav Gallery Represented At Miami International Art Fair
Celebrated fair gives cutting-edge gallery a nod with inclusion of Carl Pascuzzi's piece "Dear Art Fair" in Wynwood Pavilion
Calix Gustav Gallery is pleased to announce the inclusion of one of its current exhibit's most prized pieces in the Miami International Art Fair's Wynwood Pavilion. Hand-picked by the gallery's owner and curator, Amanda Fernandez-Leon, "Dear Art Fair" (2009) by Carl Pascuzzi contains a tongue-in-cheek message that makes it the ideal piece to represent Calix Gustav Gallery's unique personality.
Currently on display in a prime location at the Miami Beach Convention Center – which was notably appointed by MIA Founder Lee Ann Lester – "Dear Art Fair" has far more than visual appeal. The piece, consisting of three separate 18" x 24" acrylic photo prints mounted on LED light boxes with messages reading: "I AM," "OVER TRYING" and "TO PLEASE YOU;" is a flashy yet satirical depiction of an artist's plea for attention and accolades.
"Dear Art Fair" is currently part of a larger exhibit at Calix Gustav Gallery entitled"Grit: to endure a trying situation and continue on without complaint." Grit features an array of photography, sculptures, light installations and mixed media exploring the mundane, gritty, sordid and glamorous side of Miami's Wynwood Arts District. Highlights include Yanelis Lopez's Soap and Potatoes Series, an exploration of the manipulation of simple, everyday items; Jonathan Stein's photography portraying the hardcore reality of social intolerance toward the transgendered community; Spunk and The Orange Kittens' shocking "Casting Couch" represent the deplorable human lack of morality; Charles Chace's sleek, industrial-inspired metal pieces; as well as Klaus Guingang's thrilling marquee-like light installation "MAFIART."
For more information on "Dear Art Fair" and Calix Gustav Gallery, please visit www.calixgustav.com.
Miami International Art Fair: Thursday, January 7 – Sunday, January 10, 2010
Grit Exhibition: December 1, 2009 – February 2, 2010
Gallery visiting hours: Tuesday – Friday, 12:00 p.m. – 6:00 p.m. and Saturday, 12:00 p.m. – 5:00 p.m.
Miami International Art Fair
Miami Beach Convention Center
1901 Convention Center Drive
Miami Beach, FL
Calix Gustav Gallery
Wynwood Arts District
98 NW 29th Street
Miami, FL