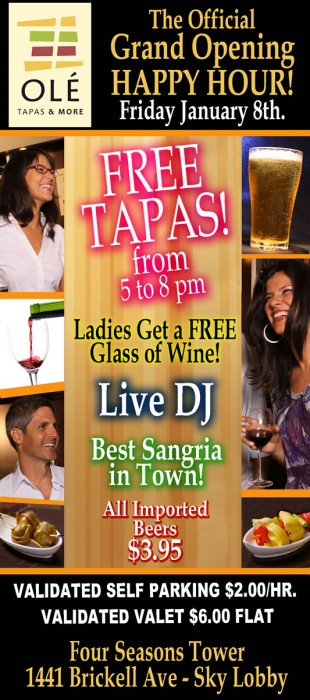 Fabulous Miami has the pleasure to invite you to the Official Grand Opening Happy Hour this Friday, January 8th, at Ole Tapas & more at The Four Seasons.
Free tapas from 5 to 8 pm and ladies get a free glass of wine.All imported beers $3.95. Best Sangria in Town!! Live DJ
Address: 1441 Brickell Avenue – Sky Lobby
Validated selfparking $2.00/HR.
Validated Valet $6.00 flat
Bring your business cards to participate in a raffle to win a free month membership at the Sports Club La at the Four Seasons.
Please RSVP to RSVP@fabulousmiami.com by January 6th.
Any questions please call us at 786-393-5850 ext 201
E-mail: info@fabulousmiami.com
http://www.fabulousmiami.com