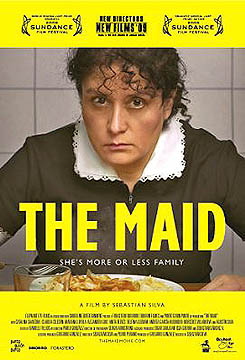 08 FRI, 09 SAT, 10 SUN 7:15pm & 9pm:
The Best of SUNDANCE and Miami International
In collaboration with Emerging Pictures
The Maid (La nana)
"She's more or less family". . .
(Directed by Sebastián Silva/Chile/Mexico/2009/95mins.)
With Catalina Saavedra, Claudia Celedón, Andrea García-Huidobro
Winner of the Sundance Film Festival Grand Jury AND Special Jury Prize, and three special awards at the 2009 Miami International Film Festival, The Maid returns to Miami for all of you who missed one of the most popular and the most rewarded film of the festival(s)! Raquel, a bitter and introverted woman, has been the Valdés family's maid for 23 years. One day Pilar, her mistress, hires another maid to help Raquel with her chores. . .
In Spanish with English subtitles.
WINNER: Sundance Film Festival Grand Jury Prize and Special Jury Acting Prize,
Miami Int. Film Festival Special Jury Prize Best Actress, Screenwriter Award,
and International Film Guide Inspiration Award,
Cartagena Film Festival Critics Prize, Guadalajara FIPRECSI Prize
"A SHARPLY CUT GEM"-Variety
"Sebastian Silva shows a complexity normally reserved for the masters"-IndieWIRE
For tickets click here.