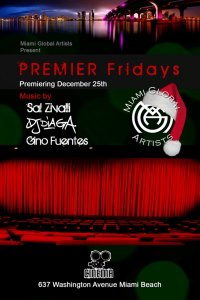 Miami Global Artists presents "Premier Fridays" at the brand new Cinema nightclub in the heart of South Beach!
Christmas falls on a Friday this year! That means that after celebrating with your family & friends all day, living in Miami, you'll probably want to go out and show off all the new stuff and clothes that you got. Well we've got just the thing… A brand new party at a brand new nightclub right on the South Beach strip!
Come celebrate Xmas on the Beach with us, the M.G.A. family & Cinema Staff!!
Premeir Nightclub is South Beach's newest upscale venue. Beautifully designed to give you an eye pleasing experience.
Dress To Impress
no cover all night
Merry Christmas
All Guests must be 21 years of age!
Music provided by:
Sal Zivalli
Diaga
Gino Fuentes
Cinema
637 Washington Ave
Miami Beach, FL 33141