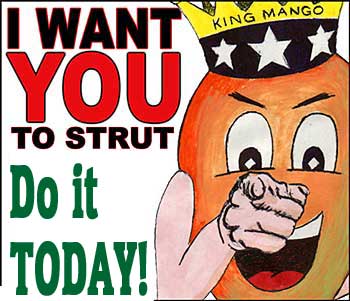 King Mango Press Release
King Mango Strut Entry Form HERE (PDF)!
Despite rumors of its demise, the 28th King Mango Strut is alive and struttin!
On Sunday, December 27th at 2pm, King Mango Strut will unleash its own version of the stimulus package in the streets of downtown Coconut Grove.
The King Mango Strut, the true Public Option Plan, has been serving South Florida with quality satirical care for 27 years. With no deductible, no copay, no referrals require, all you need to do to sign up for America's premier mental health care parade to bring your funniest idea and be willing to strut your stuff. There is no exclusion for pre-existing conditions and no one cares if you are in-network or out-of-network. Let The King Mango Strut be your primary laughter service provider committed to levity and healing our national recession crisis of humorously-challenged outlooks.
So come on out to party with the Mangoheads and get your strut on. Once you strut your stuff, you never go back to being a spectator. If you have a group and a funny plan – great! If you want to participate but don't know what to do, don't worry, the wacky Mangoheads will give you something nutty to do.
The King Mango Strut is the most fun event Miami has to offer, full of irreverent, creative and wacky people and lots of opportunity to make fun of everything and anything. There is no better place for strutting than in Miami. It provides more material that we could ever use. As creative as we are, even we couldn't come up with some of this stuff.
For additional information call: 305. 401.1171
e-mail: abaldwin@insomnic.net
King Mango Strut Entry Form HERE (PDF)!
If you've been following the news you probably have a good idea of the people, places, and, politics that have perplexed, peeved, and, perpetuated the insanity of the past year.
Watch it all come to life on the streets of Coconut Grove, Sunday, December 27th at 2:00 p.m. at the 28th Annual King Mango Strut Parade. Dance the Mangobama at the craziest parody parade this side of the Universe.