Miami: Get Ready to "C" An International Sensation Gallop into Town
The Adrienne Arsht Center for the Performing Arts of Miami-Dade County and Cavalia USA Inc. present the world-renowned equestrian spectacular, Cavalia, to debut in Miami this January
Tickets go on sale Sunday, November 22, 2009
WHAT: Cavalia
WHEN: January 19, 2009
Full Schedule Click Here
WHERE: White Big Top in Bicentennial Park – Downtown Miami
COST: Regular priced tickets range from $34 to $89.50
INFO: www.cavalia.net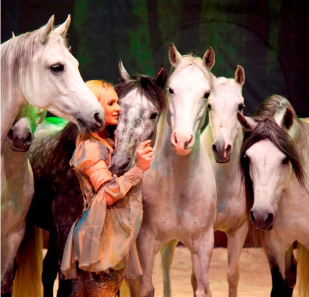 On January 19, Miami will experience what 2.5 million people in Europe, Canada, and U.S. cities including Washington D.C., Chicago, Los Angeles, Las Vegas, Boston, and most recently, Atlanta have been astounded by the extravagant multimedia equestrian celebration for the eyes and ears that is Cavalia. Guests who attend the show will "ooh" and "ahh" in amazement at the beauty of the more than 60 4-legged artists in this eclectic cast. Crowds will cheer and rise in their seats during the incredible performances of some 40 2-legged artists, including acrobats, aerialists, riders, musicians and dancers. From January 19 – January 31, under the White Big Top at Bicentennial Park in Downtown Miami an exquisite, fast- paced, unforgettable 120-minute performance featuring the harmony between horse and man will find its home. Cavalia marks the Adrienne Arsht Center's very first off-site production, and underlines the Center's commitment to provide world-class, diverse programming to the city of Miami, and the South Florida community.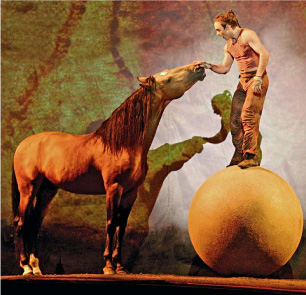 This spectacular production was created by Cirque du Soleil co-founder, Normand Latourelle, and is often compared to Cirque for the way it revolutionizes equestrian and performing arts, much like Cirque revolutionized the circus. Cavalia will stop in Miami, as it makes the rounds to major cities on its North American tour, after touring in Europe for two years. "I had the opportunity to bring Cirque du Soleil's Cirque Réinventé to Miami in 1989," says Normand Latourelle, Cavalia founder and artistic director. "I am extremely proud to introduce a new type of show to Miami on the 20th anniversary of this milestone. I hope that the people will embrace Cavalia's magic."
"We are honored to co-present such a beautiful performance such as Cavalia," said M. John Richard, President and CEO of the Adrienne Arsht Center. "South Florida will fall in love with this highly acclaimed, artistic demonstration of the unique bond between humans and horses."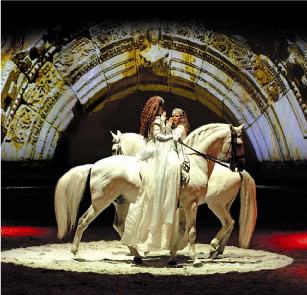 Cavalia is not just a show for horse-lovers. Nor is it a show just for Cirque-fanatics. It is a lavish orchestration of multimedia, equestrian and performing arts designed to astound and entertain people of all ages and backgrounds. Under the world's largest touring Big Top, which rises 100 feet above ground and spans more than 26,264 feet, 60 of the most magnificent creatures on the planet will express themselves in all their beauty, grace and strength on a 160-foot wide stage. While the horses gallop and cavort and, at times, run free completely unbridled, the show will incorporate unbelievable acrobatics, original live music and stunning special FOR IMMEDIATE RELEASE Friday, November 20, 2009and lighting effects to create a dreamlike setting, making it apparent to see why this show has become a global sensation.
Across North America and Europe, Cavalia has enthralled audiences and been praised by critics for its captivating and unique experience. CNN's Larry King raved, "The greatest show I have ever seen!" The Washington Post exclaims, "Impressive, highly refined, indeed a wonder!" The New York Times describes the show as "a celebration of the unique emotional and physical bonds between humans and animals," while O Magazine exclaimed that "The wildly beautiful stallions of Cavalia leave audiences with their hearts galloping," and the Los Angeles Times summed it up with "Blissful play, haunting score…striking aerial grace." Madrid's El Pais remarked "Like in a dream," while Berlin's Zeitung said "Cavalia shows flawless artistry." Lastly, Amsterdam's De Telegraf proclaimed Cavalia as "A fairytale for the entire family!"
Cavalia features 12 different breeds of horses, including Arabians, Lusitanos, Spanish Pure Breed, Quarter Horses, and Paint horses from France, Canada, Spain and the United States. The featured 2-legged artists represent the nations of the United States, Australia, Belgium, Canada, Kyrgyzstan, Morocco, Portugal and Russia.
The significance of the 4-legged performers can also be seen in the signature "C" of Cavalia's logo, with a horse's head depicted in the letter (the "l" in Cavalia is also representative in the shape of a horse's leg).
TICKETS – For its exclusive run in Miami, Cavalia will be presented under the White Big Top pitched in Bicentennial Park in Downtown Miami. Tickets go on sale Sunday, November 22. Regular tickets are priced from $34 to $89.50. And, if just sitting in the stands is not enough for you, the show can be customized for the complete VIP experience from $129 to $180, including a Horse Lovers Package that lets patrons tour Cavalia's stables, and the Rendez-Vous Package that includes a tour of the stables, a cocktail/dinner reception and much more. Special pricing available for children, students, and seniors.
SHOWTIMES – Opening night will be Tuesday, January 19. During Cavalia's Miami run, there will be nightly shows except Mondays, matinee and evening shows on Saturdays and early shows on Sundays. For more information, a detailed list of show dates and reservations, call 1-866-999-8111 or visit Cavalia.net.
ABOUT CAVALIA Seen by more than 2.5 million people worldwide, Cavalia is a tribute to horses and a celebration of the relationship that we have enjoyed together. This multimedia extravaganza features more than 100 two- and four-legged artists, including beautiful horses of 12 breeds, riders, acrobats, aerialists, dancers and live musicians. It is this combination that sets the mood in the majestic White Big Top, the largest touring White Big Top in the world. Headquartered in Montreal, Quebec (Canada), Cavalia is the brainchild of Normand Latourelle who has become renowned for producing popular events throughout the world.
www.cavalia.net or follow us on www.twitter.com/cavalia or www.facebook.com/cavalia.