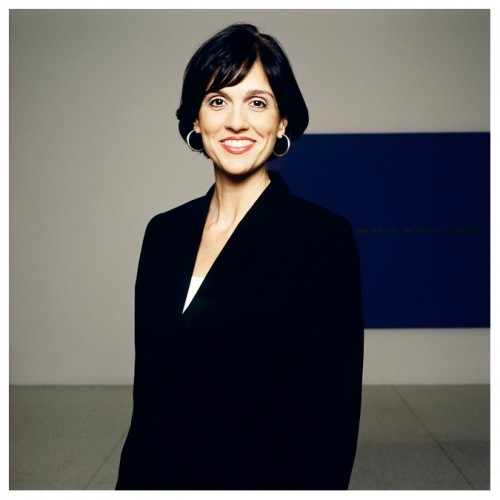 The Frost Art Museum Presents The Green Critics' Lecture Series with guest speaker
Olga Viso.
The Patricia & Phillip Frost Art Museum's Steven & Dorothea Green Critics' Lecture Series welcomes Olga Viso, director of the Walker Art Center, for a lecture on Friday, January 29 at 7:30 pm. This free event will take place at the Wertheim Performing Arts Center at FIU's Maidique Campus and is open to the public.
Olga Viso began her tenure as director of the Walker Art Center, Minneapolis, in January 2008, after 12 years at the Hirshhorn Museum and Sculpture Garden, Smithsonian Institution, the final two years as director. Viso distinguished herself as a curator, scholar, and administrator at the Smithsonian Institution and rose quickly to leadership at the Hirshhorn.
Under her tenure, the Hirshhorn shifted its focus to present a decidedly more contemporary program of international art produced in all media. She organized or co-organized significant exhibitions of leading artists such as Ana Mendieta (2004), Juan Muñoz (2001), and Robert Gober's highly celebrated installation at the 2001 Venice Biennale, as well as group shows, including Distemper: Dissonant Themes in the Art of the 1990s (1996) and Regarding Beauty: A View of the Late Twentieth Century (1999), which she co-curated with Neal Benezra. Viso currently serves on the advisory board of the Fabric Workshop and Museum in Philadelphia and the Cintas Foundation in New York City, two non-profit organizations that support emerging artists and the production of new art through artist residencies and fellowships.
Since 1981, The Frost Art Museum has enhanced its exhibitions and educational programs with the Steven & Dorothea Green Critics' Lecture Series, which has introduced numerous art world luminaries to the South Florida community. Internationally renowned artists, museum curators, scholars and critics have spoken on a variety of art topics to audiences of over 800. Past speakers have included: Claes Oldenburg, Philippe de Montebello, Alex Katz, Maya Lin, Terry Gross and Marina Abramovic.
About the Frost Art Museum – Florida International University
The Frost Art Museum opened its current 46,000-square-foot state of the art building in November, 2008. Over 27,000 people have visited The Museum in its new building since its opening in November, 2008. Admission to The Museum is always free. The Frost is an AAM accredited museum and Smithsonian affiliate and is located at 10975 SW 17thSt across from the Blue garage and adjacent to the Wertheim Performing Arts Center on the Modesto A. Maidique Campus. Hours of operation are Tuesday through Saturday 10 a.m. – 5 p.m. and Sunday noon-5 p.m. Closed on Mondays and most legal holidays. For more information, please visit thefrost.fiu.edu or call 305-348-2890. Find The Frost Art Museum on Twitter (twitter.com/frostartmuseum) and Facebook (facebook.com).