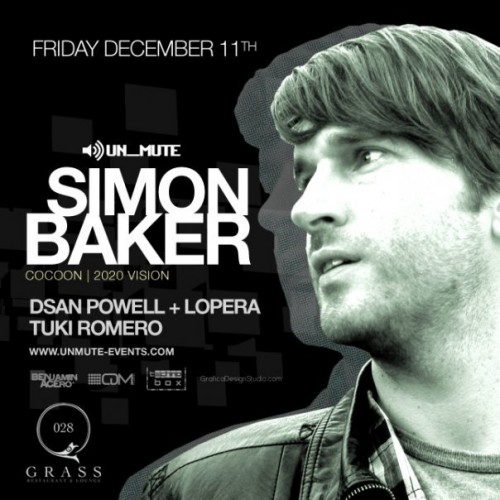 Friday December 11th
UN_MUTE PROUDLY presents..
SIMON BAKER
[Cocoon , 2020 Vision, Viva Music, Left Room ]
http://www.myspace.com/simonbakerinfantrecords
alongside UN_MUTE residents
Dsan Powell + Lopera | Tuki Romero
Ok Miami, You have seen and felt the magnitude of UN_MUTE Events.
After 2 memorable nights in which we enjoyed talents of the likes of Marco Carola, Ilario Alicante and the remarkable duo Monoblock, we intend to continue to overwhelm you with joyful and elite talent.
Now get ready to take it to the next level as we enjoy all the way from the United Kingdom – SIMON BAKER "The infant turned tech-house heavyweight" as he gets poised to delight us with his exquisite musical selection and unmistakeable and acclaimed tech-house.
We at UN_MUTE believe that a party is much more than just the music, it is also comprised of the fun people that attend to it, the venues, sound, themes, atmosphere,etc. that is how UN_MUTE stands above the rest. By making each of our unique events different and better from the last one, by carefully hand-picking each of our venues, themes and artist for the night ahead of us.
With UN_MUTE you do not know what is coming next; only rest assured that each of our events will be a memorable experience.;-)
UN_MUTE your life…the UN_MUTE Team.
Simon Baker (productions)
-http://www.youtube.com/watch?v=m2LiYYH33jg (Moonblock)
-http://www.youtube.com/watch?v=UQ5v00Bh9Vg (Way out of my head)
-http://www.youtube.com/watch?v=RHM-YmfdUe8(Kaskazi)
-http://www.youtube.com/watch?v=TDFSqcw2vGs (Stop, Space return)
-http://www.youtube.com/watch?v=3cKhYevy51U (Mamaia highway)
-http://www.youtube.com/watch?v=ecN_96aG3g0 (Plastik )
Simon Baker (Live)
– http://www.youtube.com/watch?v=29ZzyKR4x88
– http://www.youtube.com/watch?v=k6SRs6C4hHw
– http://www.youtube.com/watch?v=fMLVzyqWHbc
SIMON BAKER IN BEATPORT:
https://www.beatport.com/en-US/html/content/artist/detail/8013/Simon%20Baker
SIMON BAKER PODCAST : IBIZA VOICE
http://www.ibiza-voice.com/music/podcast/Simon_Baker
For VIP Reservations or Info: Benjamin Acero 754.422.2917