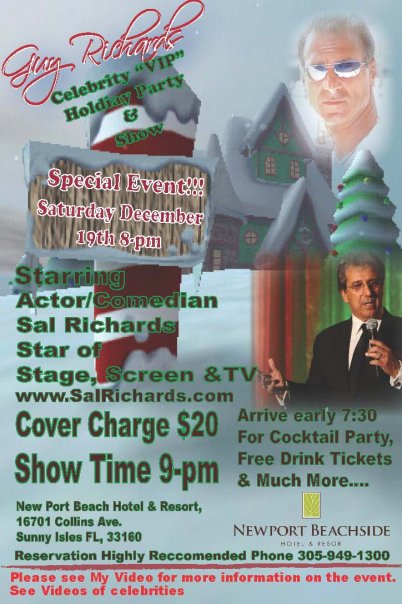 Newport Beachside Hotel & Resort, Proudly Presents:
Guys Richards Celebrity "VIP" Holiday Party & Show Extravaganza
"Like Father Like Son" "LIVE TAPING"
WHAT: Take a break from the hustle and bustle of the holidays and cut the party season pressure with some "laugh out loud" comedy & Music. Kitchen305, located at the Newport Beachside Hotel & Resort, is proud to present celebrated "LIKE FATHER LIKE SON" Guy and Sal Richards who will take center stage in the Tiffany Ball Room on Saturday, December 19th, 8-pm Show Time 9-pm. Portion of proceeds will benefit, familys w/ children w/ autism. http://www.ilovemychildwithautism.org/
Actor/Comedian Sal Richards was touted, "One of The Funniest Guys in Show Biz!" by the New York Daily News and Cindy Adams of the New York Post insists "Sal Richards Is Hilarious, a Must See!" Las Vegas, Atlantic City, Broadway, and World wide. In addition to his comic appeal, Richards has appeared in numerous movies including "Out For Justice" with Steven Segal and "Rounders" with Matt Damon as well as televisions show including "Law & Order: Criminal Intent" just to mention a few. http://www.salrichards.com/
Successfully following in his father's footsteps is: Actor/Comedian Guy Richards, Richards is one of the most versatile and multi-talented entertainers in the industry today. His high energy comedy is not only infectious but contagious. He has appeared on Television, in Films on Broadway, in Las Vegas and Atlantic City, and tours nationwide. Richards is currently shooting a new film titled "Engaging" on Miami's famous South Beach. He recently finished an award-winning documentary film entitled "Mr. Laughs A Look Behind The Curtain." DVD Now available on amonzon.com (Mr. Laughs). Richards gears his humor according to venue…See Holiday event video… Face Book Link
Guy Richards was just recently on NBC-6 Today Show, Miami, Ftl , CBS-12, FOX-4 Morning Blend, Naples, Fl, FOX -4 Rising Morning News, Naples Fl…with his new comedy tour Entitled (Bipolar "Man" Comedy Tour). Richards also is in pre-production for his own televised reality show. Guy has a big heart and he loves to participate in raising money for many charities.
For more information visit: www.guyrichardstv.com or www.guyrichards.com
Other Celebrities to attend, On The Mike/W The Mike Sherman Show On My 33/CBS, Sports Caster: Craig Minervini, Tito Puente, Jr, Marvin Jones, Former line backer #55 (New York Jets), Mauricio Pallares, Entertainment Producer – WTPH Azteca America. Many more Celebrities to attend.
Guests will enjoy Absolut Vodka cocktail specials, 50/50 raffle, free gift giveaways and a raffle for a chance to win a weekend stay at the Newport Beachside Hotel & Resort & much more.
ABOUT NEWPORT BEACHSIDE HOTEL & RESORT
Nestled between Miami and Fort Lauderdale beaches, the Newport Beachside Hotel & Resort offers guests a smart and fun way to travel with world-class amenities and more than 18,000- square-feet of event space.
HAPPY HOLIDAYS FROM ALL OF US
WHEN: Saturday, December 19, 2009
Show begins at 9 p.m. – suggested arrival time 8 p.m.
$20 cover charge
Dinner reservations are highly recommended
WHERE: Tiffany Ball Room at the Newport Beachside Hotel & Resort 16701 Collins Avenue Sunny Isles Beach, FL Reservations please call 305.949.1300 www.newportbeachside.com