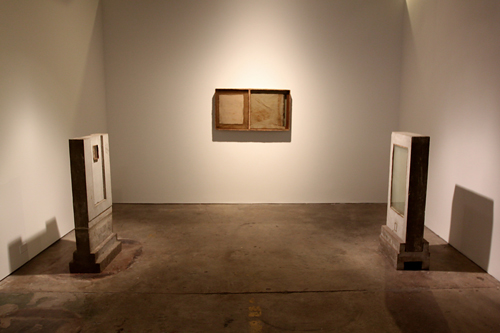 Robert Thiele: 30, installation view
Dorsch Gallery
Art Basel Week News
We are currently showing 30, a survey of works by Robert Thiele which opened to enthusiastic reviews last Saturday night. The exhibition runs until December 31st, 2009. A second opening will be held this Saturday, December 5th from 7-11pm. Don't miss this very special exhibition!
Extended hours during Art Basel week, December 2nd-6th:
Tuesday and Wednesday, 12pm – 5pm
Thursday and Friday, 9am – 9pm
Saturday, 9am – 11pm
Sunday, 11am – 4pm
You can also visit us at Aqua Wynwood, 42 NE 25th Street. We will be featuring the work of artists Alicia Gibson, Kyle Trowbridge, Peter Barrett, Michelle Hailey, Ralph Provisero, Richard Haden and Amanda Burnham.
Other news this week:
Rene Barge, in collaboration with David Dunn and Gustavo Matamoros, presents Autonomous Sounds, a performative sound installation produced by Subtropics, December 3rd and 4th, 7-11pm at the Carl Fisher House and Amphitheater, 2100 Washington Avenue, Miami Beach.
Clifton Childree is included in group exhibitions at a number of Miami galleries, including Gallery Diet, Spinello Gallery and Calix Gustav Gallery. He is also participating in Pulse Art Fair at the Siemens Artlab.
Beyond his incluision in Aqua Wynwood, Richard Haden is included in Littlest Sister at the Spinello Gallery, and Time+Temp at the Art and Culture Center in Hollywood, open through January 10, 2010.
Brandon Opalka's mural on the west wall of the gallery, Nature is Imagination Itself has just been completed, and will be celebrated with an opening on December 12th, 7-10pm. His work is included in Time+Temp at the Art and Culture Center in Hollywood, open through January 10, 2010.
Mette Tommerup is included in Ping Pong Miami, from December 1st-13th at the Buena Vista Building, 180 NE 39th Street #120, and and Time+Temp at the Art and Culture Center in Hollywood, open through January 10, 2010. She is also participating in the Art Basel "Visit the Artists' Studios," Saturday December 5th, 9am – Noon. http://www.artbaselmiamibeach.com/go/id/djf/
Dorsch Gallery
151 NW 24 St
Miami, FL 33127
dorschgallery.com