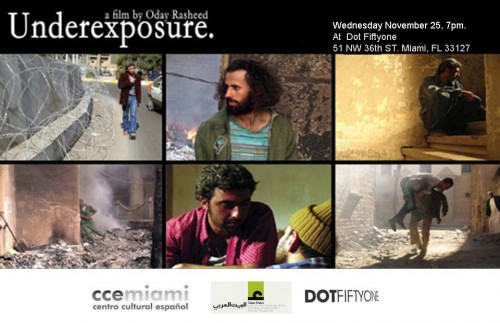 BEYOND CCEMIAMI. UNDEREXPOSURE. IRAQ/GERMANY 2005, 74'. DRAMA.
DATE: 11-25-2009
TIME: 7pm
Wednesday Dicember 25, 7:00 pm
Tales from Iraq
Underexposure 2005, 74'. Germania-Iraq
Directed by Oday Rasheed
Arabic with English Subtitles
RSVP 305.448.9677
At Dot Fiftyone
51 NW 36th ST. Miami, FL 33127
Free Admission
Shot on location in Baghdad in the aftermath of the US led invasion of Iraq, UNDEREXPOSURE blends reality and fiction to create a lyrical and textured work that attempts to capture the dizzying atmosphere of life during war and fiercely illuminates a part of the world long left in dim light.
Oday Rasheed is a director, scriptwriter, filmcritic and musician. Currently he is writing a critical study on a trilogy by Yousif Shasheen, which is going to be called 'The Visionary's Memory'.