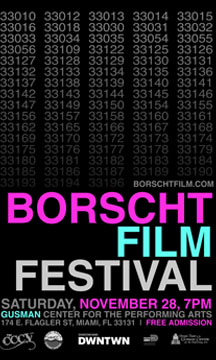 Borscht Film Festival
Saturday, November 28, 2009
Free Admission
This Saturday, November 28, 2009 at 7:00pm
the 6th annual Borscht Film Festival will be taking over
the Gusman Center for the Performing Arts.
The Borscht Film Festival commissions and showcases the work of local filmmakers under the age of 30 who tell Miami stories that go beyond the typical portrayal of the city as a beautiful but shallow party town.
7:00 PM Gusman Doors Open
Welcome to the beautiful Gusman Center.
8:00 PM Borscht Select Short Films
The best of narrative short films created by Miami filmmakers under 30. Among the neighborhoods depicted are Kendall, Doral, Tropical Park, Havana, San Juan, Overtown, Coral Gables, Coconut Grove, Wynwood, Buena Vista East, Little Haiti, Little Havana, Westchester and Ancient Brickell.
9:30 PM CCCV Stories
Five short narrative films created by Miami filmmakers under 30, commissioned by the Borscht Film Festival and co-funded by the Miami World Cinema Center. The neighborhoods depicted are Liberty City, Surfside, Key Biscayne, DWNTWN and the Design District. CCCV is the Roman numeral for 305.
11:00 PM Oolite Visual Art Showcase
Exhibition of Miami artists under 30 (across the street at the historic Macy's space)
12:00 PM After Parties, Surprises
DWNTWN Miami will be alive with venues offering special rates to patrons of Borscht. The Borscht Film Festival will continue into December, offering a unique event each day, but you must attend the Gusman screening to receive an invitation.
For More Information Go To: Miami World Cinema Center
THE BORSCHT FILM FESTIVAL ANNOUNCES ITS SIXTH ANNUAL EVENT AT THE OLYMPIA THEATER AT GUSMAN CENTER IN DOWNTOWN MIAMI
Miami, Florida – The Borscht Film Festival has grown. With the support of the Miami World Cinema Center it has become one of the strongest community film events in South Florida. The festival will take place Saturday November 28th at the Olympia Theater at Gusman Center in Downtown Miami (174 East Flagler Street, Miami, FL 33131). Doors will open at 7:00 PM, films will begin promptly at 8:00 PM. The event is free and open to the public.
Following past years format, the festival will feature the Borscht Select Short Films program consisting of short films submitted by Miami filmmakers under the age of thirty.
In an effort to support local creative talent, the festival will present the "CCCV Stories" a series of five short films commissioned by the Borscht Film Festival, and co-financed by the Miami World Cinema Center, from over 100 submissions. Based out of the MWCC, the Borscht Film Festival selected each film because it tells a different distinctly Miami story that takes place in a specific Miami neighborhood and was created entirely by emerging South Florida artists.
Following the Gusman Event will be the opening of the Oolite Visual Art Showcase, an art gallery located at 22 East Flagler St. Miami, FL 33131 that will showcase the best of Miami-based visual artists under the age of 30, and will feature live performances by local bands. The Oolite Visual Art Showcase will run through Art Basel.
The Borscht Film Festival will also host world-premiere screenings, lectures in partnership with the University of Wynwood (including a Michael Bay Symposium), and other events from November 28th through December 1st, however tickets to these events will only be announced and distributed on November 28th at the Gusman Center.
Together these events showcase Miami's burgeoning local independent film scene, and is the place to see new works by emerging Miami filmmakers in a wholly original environment that will transform downtown Miami.
The Borscht Film Festival is possible due to generous support from the Miami World Cinema Center, DWNTWN, Downtown Development Authority, Miami-Dade Cultural Affairs, and many others.
To find out more, visit www.borscht.info or email contact@borscht.info or call 305-433-5848.
About the Borscht Film Festival
The Borscht Film Festival, started in 2004 by New World School of the Arts high school students, is a yearly event that believes in Miami's potential to host a world-class independent film industry and are doing their part by inspiring collaboration between members of an idiosyncratic generation that was born in the 80's and came of age with the city itself. By keeping this "Miami New Wave" of talent working on the city at least once a year, they believe they can build global interest for the wholly original film movement and keep filmmakers from abandoning Miami for larger markets. It is Borscht's belief that Miami has the cinematic richness of character to compete with Woody Allen's New York, Fellini's Rome, or Godard's Paris.
About Miami World Cinema Center
As the first non-profit film studio in Miami, MWCC's mission is to provide tools for filmmakers and ensure an increased production of high quality films and digital media in South Florida. MWCC was one of the 31 recipients of the John S. and James L. Knight Foundation Knights Arts Challenge Grant of $750,000 over four years. MWCC has been operating since January of 2009 from its offices in Wynwood under the direction of Patrick de Bokay and Joshua Miller. The cinema center develops programs in the areas of education, talent search, and communications and has a unique line-up of projects in various stages of production and development.