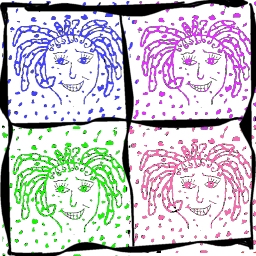 The Lumpy Sue Acoustic Musicfest is a free concert in North Miami's Greynolds Park the day after Thanksgiving. It provides a relaxed and mellow alternative to the frenzy of Holiday commercialism. However, if money is burning a hole in your pocket, you can buy raffle tickets to support Habitat for Humanity. Prizes are generally gift certificates from local merchants and have included: restaurants, spas, music and book stores, baskets and gifts, coffee houses, hotel and cruise vacations, etc.
FRIDAY NOVEMBER 27 2009
FREE LIVE MUSIC FROM 11 AM TO 5 PM AT GREYNOLDS PARK
17530 W Dixie Hwy
North Miami Beach, FL 33160-4819
RAFFLES WITH GREAT PRIZES, 100%OF PROCEEDS GO TO HABITAT FOR HUMANITY OF GREATER MIAMI
For Additional Information, Talent Inquiries, Sponsorship Info or to Donate Prizes, Call: 786 999 5777 Or email: info@lumpysue.org
Tentative Schedule:
First thing is open mike (Get a good spot, unpack your blankets or chairs, meet your neighbors, buy some raffle tickets and get comfortable). From Noonish to Sundown we will be privileged to enjoy the sounds of many of the best local artists:
11:00 to 12.10 Open Mic
12:20 to 12:45: Diane Ward
12:55 to 1:25: Steel Drum Band
1:35 to 1:55: Forget the Name
2:05 to 2:25: Ellen Bukstel
2:35 to 2:55: Minimal
3:05 to 3:25- Raffa and Rainer
3:35 to 3:55 – Daphna Rose
4:05 to 4:30: Nil Lara
4:40 to 5:10- Romo
5:15 to sunset Rat will clear the park in his typical atypical way ! (Recordings of Ratt will not be permitted by both FDA and EPA decree)
Thank you for using Soul Of Miami!