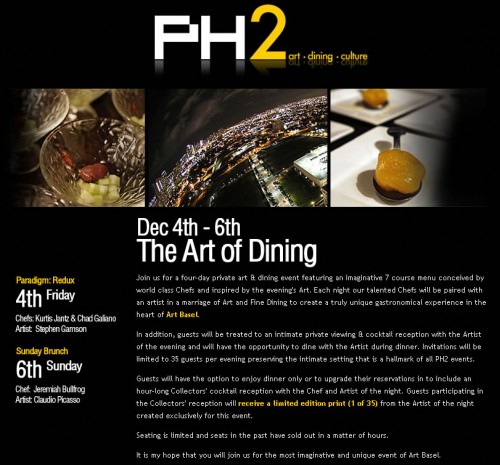 PH2 Art | Dining
A Unique Evening of Art and Gourmet Dining.
I am happy to announce that plans are under way for the PH2 event titled "The Art of the
Gourmet". This event will be held during Art Basel starting Thursday, December 3rd and
continuing through Sunday December 6th. The event will consist of 3 dinners and a Sunday
brunch at a private penthouse centrally located between Scope Art Fair, Art Miami, Design
Miami and Photo Miami in the heart of the Miami Design District.
The four day private dining event will feature an imaginative 7 course menu conceived by each
Chef and built around the Art theme of the evening. Each night the Chefs will be paired with an
artist in a marriage of Art and Fine Dining to create a truly unique gastronomical experience.
In addition guests will be treated to an intimate private viewing & cocktail reception with the
Artist of the evening and will have the opportunity to dine with the Artist during dinner.
Invitations will be limited to 35 guests preserving the intimate setting that is a hallmark of all
PH2 events.
Guests will have the option to participate in dinner only or to upgrade to an hour long
Collectors' cocktail reception with the Chef and Artist of the night. Guests participating in the
Collectors' reception will receive a limited edition print (1 of 35) from the Artist of the night
created exclusively for this event.
Seating is limited and seats in the past have sold out in a matter of hours. Tickets can be
purchased online at www.penthouse2.com/
It is my hope that you will join us for the most imaginative and unique event of Art Basel.
Jason Inasi
Creative Director, The Factory Interactive & PH2
……………………….
Friday December 4th
Paradigm: redux
Chefs: Kurtis Jantz, Executive Chef at the Trump International Beach Resort
Chad Galiano, Chef de Cuisine at the Trump International Beach Resort
Paradigm: The creative duo's latest culinary endeavor at the Trump has been a new restaurant
concept called, "Paradigm: The Test kitchen. This limited engagement chef's table is a showcase
of culinary experimentation, hydrocolloids, sous-vide cooking, vacuum techniques, and umami
help to manipulate the textures and flavors of ingredients in such a way that expectations are
twisted.
Artist: Stephen Gamson
Stephen Gamson, b.1965, is an Artist from the communication age. His unique style is easily
recognized for its bold colors, iconic symbols and mass appeal. Gamson's art acts as a higher
language that unites cultures. Earlier this year he was asked to be the official Artist to represent
the 35th annual Miami Beach Festival of the Arts.
……………………….
Sunday December 6th
Sunday Brunch (Performance Art)
Chef: Jeremiah Bullfrog Personal Chef to Rick Ross and Owner, Gastropod
A native of Miami, Florida, Chef Jeremiah continues to build his reputation as one of South
Florida's most innovative purveyors of haute cuisine. From his restaurant and nightclub ventures
to personal engagements and exclusive dining events, his fusion cooking is as exciting as it is
critically acclaimed. Chef Jeremiah received his B.S. in Culinary Arts from the prestigious
Johnson & Wales University in 1998. From there he set off around the world seeking global
influences for what evolved into his signature fusion cuisine.
Artist: Claudio Picasso
Claudio's aesthetic culls influence from post-impressionism, classic cinema, graphic design, pop
culture and music. With a draftsman's meticulous eye, he engages a limited, complimentary
palette to symphonize saturated color portraits in a style that dances precariously between hyper
realism and abstraction. His work has been featured in numerous print and online graffiti
publications, as well as television's Miami Ink, a TLC reality show. He has had numerous, local
exhibitions in recent years.