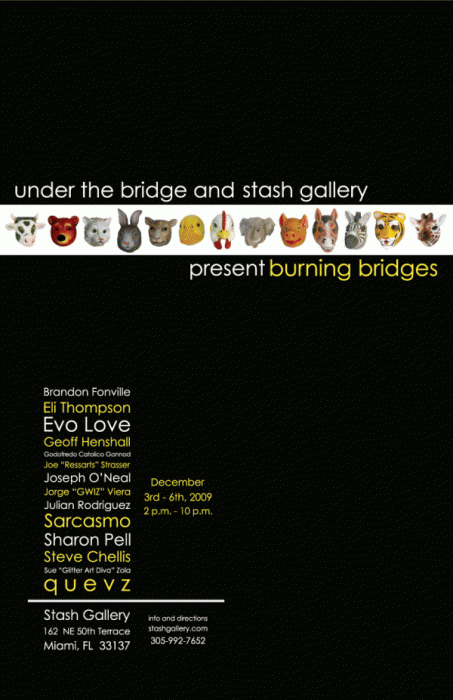 BURNING BRIDGES….
Stash Gallery brings its hugely popular and successful Under The Bridge show from the outside, in; 13artists will be featured in highly anticipated Stash Gallery show, Dec. 3-6
Rebelling against the traditional, typical and expected, 6 years ago, Evo Love and Romain Gateau rented a block of street meters from the city of Miami. Their vision? To create an open, outdoors art gallery literally under a bridge at 1st Street and NE 2nd Avenue in Miami's Design District. Hanging art on walls they constructed, and providing music and refreshments, Love and Gateau managed to produce a fully developed show – branded, of course, Under The Bridge – that allowed Art Basel visitors and art collectors to browse, interact with artists and purchase all outside the confines of a gallery space or major fair. It was an exciting, powerful and sophisticated annual show, bold in its innovation and imagination.
This year Love and Gateau have moved Under The Bridge indoors, renamed it Burning Bridges, and will showcase 13 exciting and dynamic artists from South Florida and as far away as New York City. Burning Bridges is as edgy and comprehensive as their Under The Bridge show but now re-produced at their own Stash Gallery at 50th Terrace and NE 2nd Avenue.
"The innovation of Under The Bridge, and the amazing artists we represented, were the core components for the intense and quick growth of our annual Art Basel show," notes Love. "This year we are thankful to have a gallery large enough to include a large range of artists whose work complements and balances each other. This is our best year yet!"
Local celebs and media are expected for the show, always a must-see during Art Basel. "We've always heard about Under The Bridge's 'cool' factor," says Gateau. "But that's not as important to us as giving these incredible artists a forum to showcase their work. Moving the show inside this year brings everything to a new level."
See Burning Bridges with artists, Sharon Pell, Joe Strasser, Joseph O'Neal, Brandon Fonville, Geoff Henshall, Steve Chellis, Eli Thompson, Evo Love, Sarcasmo, Julian Rodriguez, q u e v z, Jorge " GWIZ" Viera, Sue Zola aka Glitter Art Diva, and Godofredo Gonnod, December 2-6, 2009, Stash Gallery. See contact information above.