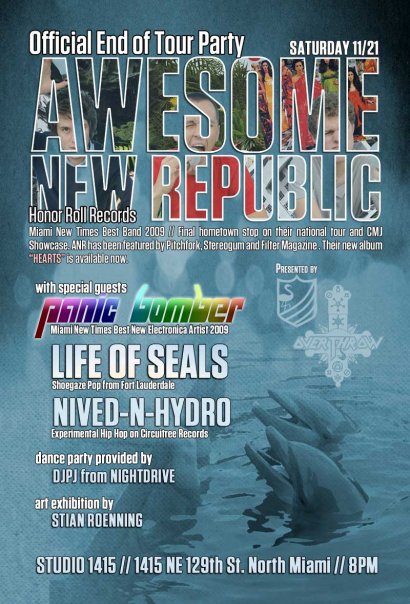 AWESOME NEW REPUBLIC Return to the Magic City!
w/ PANIC BOMBER, LIFE OF SEALS and NIVED + HYDRO
SATURDAY 11/21
Honor Roll // Overthrow MIA present:
AWESOME NEW REPUBLIC Return to the Magic City with a little help from their friends!
http://www.anrmiami.com
http://www.myspace.com/awesomenewrepublic
http://www.miaminewtimes.com/bestof/2009/award/best-band-1648553/
PANIC BOMBER (Miami New Times Best New Electronica Artist 2009)
http://panicbomber.com
http://www.myspace.com/panicbomber
http://www.miaminewtimes.com/bestof/2009/award/best-new-electronica-artist-1648532/
LIFE OF SEALS (Ft. Lauderdale Shoegaze)
http://www.myspace.com/lifeofseals
NIVED-N-HYDRO (Experimental Hip Hop on Circuitree Records)
http://www.myspace.com/nivednhydro
STIAN ROENNING
http://www.stianroenning.com
DJPJ (NIGHTDRIVE)
http://www.myspace.com/nightdrivemoroders
http://www.facebook.com/group.php?gid=38090747313
Saturday, November 21st
STUDIO 1415
1415 NE 129th St
North Miami, FL 33161
This is guaranteed to be the dance party art spectacle of the season. ANR have been on the road since October, touring the nation, finding adventure and stopping by the music industry's flagship event, CMJ in NYC, along the way. Some photos from CMJ! http://www.browardpalmbeach.com/slideshow/view/28672803
Art exhibition by Stian Roenning, South Florida photographer and videographer responsible for Dirty Harry at LIV Nightclub, Fountainebleau.
DJPJ will be spinning during the welcoming reception, in between acts, and for the afterparty following the show. Guaranteed dance party all night!
Doors at 8PM
Bands at 9PM
Arrive early for the art exhibition. Space is limited.
$8 Limited Presale Available at Sweat Records Miami and Radioactive Records Ft. Lauderdale. CASH ONLY, PLEASE! Buy presale, save money! Support your local record stores!
http://sweatrecordsmiami.com
http://www.myspace.com/radio_active_records
$10 at the door
Tune into 90.5 WVUM for a chance to win a pair of tickets!
For all thoughts, comments, existential concerns, email: amclees@gmail.com