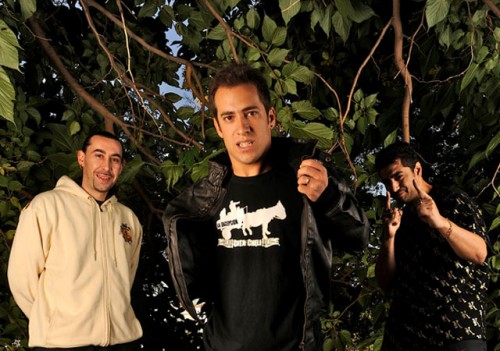 CCE Miami presents Flamenco Hip-Hop and film with La Excepción and Depedro + Martin Wenk
November 20th, 21st and 22nd, 2009
Film Screening: Friday, Nov 20th at 7:00 p.m. El truco del manco (One-armded trick). In Spanish with English subtitles.
La Excepcion Concert: Saturday, Nov 21st at 8:00 p.m. Flamenco Hip-Hop
Location: North Beach Bandshell. 7275 Collins Avenue, Miami Beach, FL 33141
Depedro + Martin Wenk Calexico Concert: Sunday, Nov 22nd at 7:00 p.m.
Location: Colony Theater. 1040 Lincoln Rd. Miami Beach, FL 33139
Admission: By donation. Tickets available at CCE Miami and two hours before each show at the venue.
In November "CCE on Stage" features the final round of performances by La Excepción with film and a music concert with Depedro + Martin Wenk.
La Excepción, the Spanish leading flamenco hip-hop band will have a double take in Miami with the presentation of the movie "El Truco del Manco" where the band's mastermind "El Langui" is the leading actor. The movie was awarded 3 Goya Awards for best direction, actor and theme song. www.eltrucodelmanco.com
La Excepción (The Exception That Proves The Rule) is a rapband from Madrid, composed of two MCs: El Langui (Juan Manuel Montilla) and Gitano Antón (Antonio Moreno), and DJ La dako style (Javier Ibañez). They started a small revolution in the Spanish hip-hop scene, opening new doors with a very self-assured and personal style that integrates flamenco, Cheli slang, and a lot of humor, without losing the social critique so central to hip-hop. They have made, from a very local identity, a universal rap that has become popular around the whole country and has achieved rankings not normally held by hip-hop. They won Best Album of the Year in Rolling Stone Magazine for their first work "Cata Cheli". www.laexcepcion.net
DePedro may be the first solo album for the man behind the name, Jairo Zavala, but in no way is it his debut. Already a celebrated recording artist in Spain, where he was born and raised, Zavala has spent the past two decades playing, writing, and performing with bands like Amparanoia, Vacazul, Los Coronas, and Calexico. The Miami concert will feature Martin Wenk from Calexico. DePedro is his most personal work, with songs written from his own experiences, his own thoughts and feelings, the music he's looked to – from Afrobeat to flamenco to prog to pop. The inspirations are simple, the everyday things we all experience that unite and define us as human: regret, memory, love, fear, loss, and happiness. Jairo Zavala is a National Geographic World Music recording artist. www.myspace.com/myspacedepedro
Activities at the Cultural Center of Spain are sponsored by the Spanish Agency of International Cooperation to the Development (AECID), Miami-Dade County Department of Cultural Affairs and Cultural Affairs Council, the Miami-Dade County Mayor and Board of County Commissioners.
Centro Cultural Español
800 Douglas Road. Suite 170
Coral Gables, FL 33134
Ph: 305.448.9677
www.ccemiami.org
For more information about local openings and events, please visit www.miamiartguide.com