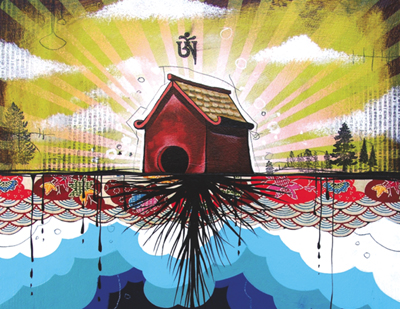 Art Whino: MIAMI
4 Day exhibit during Art Basel Miami
Art Whino, a prominent pop-surrealist and urban contemporary art gallery presents ART WHINO: MIAMI.
ART WHINO: MIAMI will be an innovative New Brow exhibition, complete with receptions and musical performances that will heighten the experience beyond the typical art show. Art from two separate traveling exhibitions, LIFE ESSENTIALS and OLD SKOOLIN' will be brought together in Miami for the first time. This landmark multi-city, comprehensive exhibition will bring together the best of both traditionally trained and urban street art styles, helping to more define this era in contemporary art and set the bar even higher for the direction of art today. This combined show will highlight both music and art that spans the spectrum of current trends, and will be accompanied by installations and auxiliary exhibitions featuring live painting by several Art Whino artists.
Art Whino has also teamed up with Urbanite Bistro to host a special all day event Thursday, December 3rd in the outdoor garden space of Urbanite Bistro, featuring over 15 Art Whino artists painting live and musical performances. Artists will also showcase some of their newest works inside the restaurant for the entire of the month of December.
Outside of Urbanite Bistro, on several surrounding buildings, Primary Flight: The world's largest site-specific street level mural installation will be taking place throughout the week. For more information visit http://primaryflight.com/blog/
Event Locations:
Main Exhibit
Charcoal Studios
Across from the Street From Scope
2135 NW 1st AVE
Miami, FL 33127
2nd Location
Urbanite Bistro
One block from Pulse
62 NE 14th Street
Miami, FL 33132
Wednesday Dec 2nd, Charcoal Studios
Press Preview, 11am-5pm
Artists/Exhibitor Mixer, 5pm-8pm
VIP and Press Cocktail, 8pm-Midnight
Thursday Dec 3rd, Urbanite Bistro and Outdoor Area
Outdoor Live Painting and Music, Noon-8pm
Reception/After Party , 11pm-2am
Thursday Dec 3rd, Charcoal Studios
General Admission, 11am-8pm
Friday Dec 4th, Charcoal Studios
General Admission, 11am-8pm
Reception with Musical Performance, 8pm-Midnight
$30 Reception Admission includes complimentary food samplings by Urbanite Bistro and complimentary beverages
Saturday Dec 5th, Charcoal Studios
General Admission, 11am-8pm
Reception with Musical Performace, 8pm-Midnight
$30 Reception Admission includes complimentary food samplings by Urbanite Bistro and complimentary beverages
Sunday Dec 6th Charcoal Studios
Art Whino: MIAMI General Admission, 11am-6pm
Life Essentials Artists
Adam Russell, Adorable Creatures, Anna Davis, Angie Mason, Anko, Asbestos, Andy Haynes, Anna Thackray, Arabella Proffer, Arisu, Blaine Fontana, Brad Strain, Brendan Tierney, Brandi Read, Brandon McLean, Bryan Collins , Casey Weldon, Charlie Owens, Chris Bishop, Chris Murray, Chris Sheridan, Daniel Fleres, Dan May, Drew Storm Graham, Dustin Ortiz, Edward Gross, Emily Greene Liddle, Esho, Fred Harper, Graham Franciose, Gregory Ferrand, J Asher Lynch, James Walker, Jason John, Jason Snyder, Jimbot
John Collier, John Hung Ha, John Powell, JoKa, Joshua Krause, Julie Steiner, Luis Lorenzana, Justin Lovato, Kareem Rizk, Kelly Vivanco, LECKOmio, Leonor Morais, Lisa Selby, Lucho, Luke Dixon, Marie Barr, Mario Wagner, Mark Jenkins, Matt Dangler, Mary Spring, Matt Somma, Michelle Caplan, Michael Crockett, Michael Owen, Mike Weber, Mikel Glass, Misprinted Type
Molotov Circus, Molly Crabapple, Morten Andersen, Nicolas Gracey, Nishi, Paulo Arraiano, Papermonster, Patrick Fatica, Raudiel Sañudo, Reuben Rude, Richard Alan Haugh, Richard Salcido, Rick Beaupre, Rick Reese, Robert Mars, Rudy Fig, Sam Ramos, Scotch, Scott G. Brooks, Spencer Reynolds, Steven Daily, Steven Smith, Sylvia Ortiz, Sugar Power, Terri Woodward, TMNK, Ursula Xanthe Young, Zach Tobias, Plus Many more!
Old Skoolin Artists
Adam Russell, Adrian 'Viajero' Roman, Alan Defibaugh, Annabelle Hartmann, Aniekan Udofia, Aryz, Aunia Kahn, Billy Mode, Brandon Hill, Brent E. Houzenga, Brooke Grucella, Cern YMI, Chris Brett, Chris Stain, CUTTHROAT, Daniel Barojas, Dave Lowell, Dave MacDowell, David Foox, Decoy, Downer, Drew Storm Graham, DSPAG, Dust, E.L.K, Ernesto Nasimo
Eyeone, Farfk, Frerk, gaNyan, Heather Randell, Herm, James Walker, Jazirock, Jef Aerosol, J Coleman, Jim 'Penny' Penfold's, Josh Taylor, Justin French, Justin Lovato, Kelly Towles, Kenn Munk, Ki Yoon Ko, Koleszar, The Krah, LECKOmio, Lelo, Marc C. Woehr, Mark "DARK" Ramos, Max Kauffman, Mefee, Mike Owen, Mode 2
Nate Frizzell, Nils Westergard, Pablo Cristi, Papermonster, Phoneticontrol, Pixielife, Project Detonate, Raudiel Sañudo, Rik Catlow, Robots Will Kill, Ron Zakrin, Ruben Ubiera, Scotch, Sheesh, Skibs, Soule, Stncl.07, Surge, Sue Works, Tika, Tim Conlon, TMNK, Werc, Will Barras
Art Whino Gallery
Art Whino is a DC based art gallery whose mission is to bring together the freshest and rawest talent from around the world. With over 400 artists in the Art Whino arsenal, ranging from California to New York, Germany to Japan and beyond, Art Whino has become an all encompassing force in the art world. Exhibitions cover the whole spectrum of new art forms ranging from exposing emerging stencil and wheat pasting artists to showcasing the most skilled leaders of many different genres. For the life essentials Exhibit 100+ artists have been invited to participate exhibiting one piece each.
http://www.artwhino.com
Urbanite Bistro
Chef-Operator Frank Imbarlina created a diverse menu at The Urbanite Bistro sure to keep patrons' palates pleased and elated. With nearly 20 years in the culinary industry, Imbarlina is best known for his first solo venture, "Brass Monkey" in Brigantine, NJ receiving the "Best of the Shore 2006" by critic Craig LaBan of the Philadelphia Inquirer, 4-stars from the Courier Post, 3-stars from the Press of A.C., and many other accolades from regional print publications, television and radio for his concept and menu..
Frank's passion for food comes from his extensive culinary training with chefs throughout the Northeast. In 1999, Frank partnered with Chef Larry Berson of the New York Times 4-starred "The Carriage House" in Manhattan to launch "Contemporary Caterers," offering eclectic, quality catering services. Their client list included members of the German, Italian and Argentinean consulates, Look Magazine, VOGUE Magazine and many other organizations in the fashion, production and financial industries. Frank has also consulted for a number of New York City restaurants and lounges.
From 1996-1999, Frank was the general manager and wine buyer at "No. 18" in Manhattan, featured in the Food Network's "Dining Around." Frank worked closely with Chef Dale Balsamo formerly of Montrachet, a protégé of David Bouley. Frank's thoughtful wine list received an A+ from the renowned wine critic Kevin Zraly and his list of original martinis was included in Ray Foley's "Ultimate Little Martini Book."
http://www.urbanitebistro.com
Primary Flight
Primary Flight is a collaborative curatorial organization dedicated to the production of site-specific, street level, mural installations. Since its inception in 2007, Primary Flight has brought together over 100 of the world's most influential Street Artists to install their bodies of work live in the streets of Wynwood. These projects provide a catalyst for burgeoning arts communities. Two books about Primary Flight events are scheduled to be released in the summer and winter of 2009, through Ginko Press Publishing.
http://primaryflight.com/blog