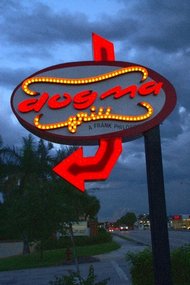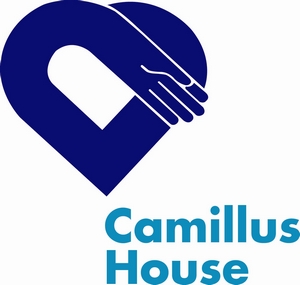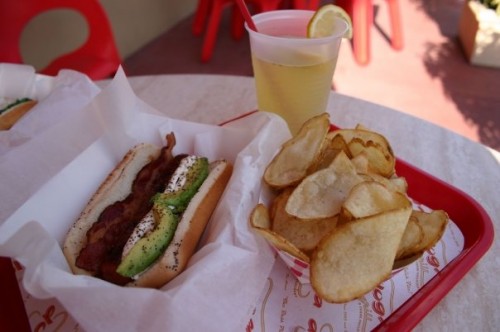 This holiday season Dogma Grill has found a way the restaurant and its clients can give thanks. For each hot dog purchased the week leading up to Thanksgiving, one turkey dog will be donated to Camillus House to feed the homeless.
From Monday, November 16th to Sunday November 22th at the trendy Biscayne eatery, each hot dog sold will be accounted for and an equal amount of turkey dogs will be dressed in their buns and served to the poor and homeless finding shelter at Camillus House, a Miami non-profit organization providing humanitarian services. The delivery of the turkey dogs will take place the week of Thanksgiving.
"We are delighted to be able to give back to the community and partner with a great organization such as Camillus House" stated Dogma Grill owner, Jeffrey Akin "Dogma is not only about great food and good times—we also want it to be a place with a social conscious – that's one of our dogmas. This year we have been lucky to have the support of some of our vendors that have enabled us to provide this special giveaway promotion – we are thankful to them as well."
Recently described by the Miami Herald as…"somewhere between Elvis and iphones.. like a malt shop serving sushi or a diner dishing caviar" Dogma's "frank philosophy" has catapulted the funky brand into national news and earned kudos including #1 "Top Bang for the Buck" from the Zagat Guide in both 2007 and 2008.
One of the few places in South Florida where a delicious quality $5.00-$6.00 lunch is still a reality, Dogma's specialty franks (prices range from $2.95 – $5.95) tempt taste buds with more than 15 creative combinations such as the Cali – freshly sliced avocado, grilled bacon, sour cream, extra virgin olive oil, vinegar, salt and pepper; El Macho – a Miami-inspired treat that crosses cultural borders with spicy salsa cream, spicy brown mustard, melted cheddar cheese, diced tomatoes, chopped onion and fresh jalapeno peppers; and the Pomodoro – topped with homemade bruschetta, special Dogma sauce and grated parmesan, among others.
The family-friendly restaurant also offers a variety of tasty alternatives including grilled chicken wraps, veggie and turkey dogs, fresh salads and a kid's menu. New menu items are Certified 100% natural beef hamburgers and veggie burgers. Dogma also scores points for its home-style potato chips and French fries, served either plain, tossed with garlic or topped with cheese or chili cheese.
The one-to-one Thanksgiving giveaway is available all day at Dogma Grill located at 7030 Biscayne Boulevard from November 19th to the 25th. Dogma Grill is open daily from 11:00 a.m. until 9:00 p.m. For more information please go to www.dogmagrill.com.
Camillus House has provided humanitarian services to persons who are poor and homeless in Miami-Dade County for 49 years. Established by the Little Brothers of the Good Shepherd in 1960, Camillus House has grown steadily over the years from a small overnight shelter into a full-service center for persons who are poor and homeless.