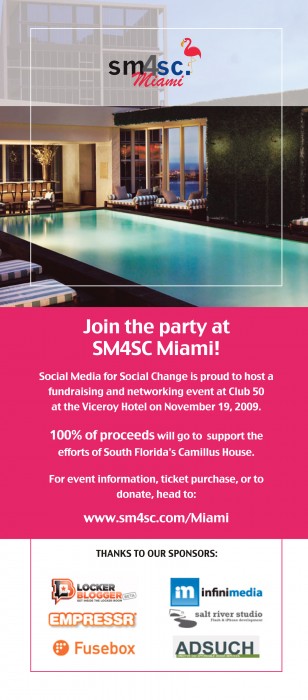 Harnessing the Power of Web 2.0 Networking, 'Social Media for Social Change' (SM4SC) Hosts Event to Support South Florida's Homeless
Social Media for Social Change Miami, the South Florida branch of SM4SC, an online grassroots movement started by Boston social media professional Gradon Tripp to rally social media users and leaders to support non- profit organizations and cause-based campaigns, will host its first fundraiser on November 19 at 8:00 PM at Club 50 at the Viceroy.
All proceeds will go to Camillus House, a non-profit organization that provides food, shelter, housing, rehabilitative treatment, and health care to men, women and children who are struggling with poverty in South Florida. Corporate sponsors participating in the fundraiser include LockerBlogger, Fusebox, Empressr, InfiniMedia, Salt River Studio, ADSUCH, and Club 50.
SM4SC has garnered support from thousands of Web 2.0-savvy individuals and corporations across the United States to raise funds for various charities. SM4SC differs from other fundraising and campaign organizations because they opt to use blogs, Facebook, Twitter, LinkedIn and other web-based tools to disseminate information and generate support, rather than more traditional means.
"SM4SC is powered by the influence that individual people have within their own online communities to spread positive messages and facilitate change," said Gradon Tripp, founder of SM4SC and DesignBoston.org. "We're utilizing the communal and viral aspects of the Internet, which can turn a simple YouTube video or blog post into something that touches millions, to help fix real- world problems."
For more information on Social Media for Social Change Miami's mission and event, visit http://www.sm4sc.com/Miami or follow SM4SC Miami on Twitter at http://twitter.com/sm4scmiami.
To purchase a ticket to this event, visit http://sm4scmiami-sm4sc.eventbrite.com.
To inquire about sponsorship and giving opportunities, please email miami@sm4sc.com.
Donations are also welcome at http://firstgiving.com/sm4scmiami.
About Social Media for Social Change (SM4SC)
Social Media for Social Change has been the frontrunner in using social media tools to benefit nonprofit organizations. Beginning in 2008, this volunteer-based group of technology, marketing and PR pros has hosted city-based events with the help of regional and national sponsors to benefit local charities, as well as "virtual" fundraising events to engage individual donors worldwide in targeted giving. The SM4SC team also assists worthy causes in implementing web-based grassroots campaigns.
To learn more about SM4SC, visit http://www.sm4sc.com.
About Camillus House
Camillus House has provided humanitarian services in Miami-Dade County for 49 years. Established in 1960, Camillus House has grown steadily over the years from a small overnight shelter into a full-service center for the poor and homeless.
To learn more about Camillus House, visit http://www.camillus.org.