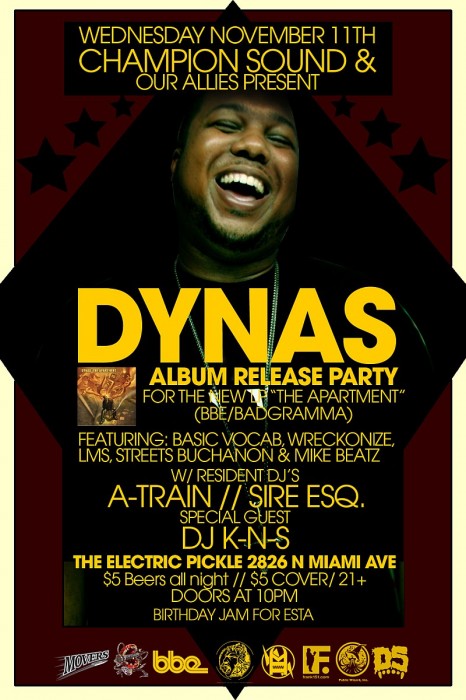 WEDNESDAY, NOVEMBER 11th
@ THE ELECTRIC PICKLE
Doors at 10pm
$5 Cover
CHAMPION SOUND & OUR ALLIES present DYNAS ALBUM RELEASE PARTY!
For the New LP "The Apartment" (BBE/ Badgramma)
DYNAS PERFORMING LIVE! www.myspace.com/Dynas
FEATURING GUESTS: Basic Vocab, Wrekonize, LMS, Streets Buchanon & Mike Beatz
w/ RESIDENT DJs
A-Train
Sire Esq.
SPECIAL GUEST
DJ K-N-S
Birthday Jam for Esta!
More on Dynas…
Hailing from South Florida, Dynas has been a creative force within the South Florida music community. Originating from New York City and born of Caribbean parents, Dynas has a variety of influences in his music. He has been credited as a true master of ceremonies able to rock a crowd of few to many. He has hosted and performed with the likes of A Tribe Called Quest, Nas, and Wu Tang Clan. Noted for his ability to visually depict urban tales with melodious harmonies. His artistry is head and shoulders above the normal Top 40 music landscape. He has collaborated with former Def Jam recording artists Slick Rick and Universal recording artists Big Gipp of the Goodie Mob as well as Masta Ace. "Ain"t nobody got a style like he's got, kid is ready" (Slick Rick- Def Jam). He has produced tracks for many local artists including former Island recording artist Mother Superior. He has toured the United Kingdom, Norway,United States of America and France. Dynas has been produced by some of the more progressive beat architecs in hip-hop. He has worked with DJ Jazzy Jeff, J Dilla, DJ Spinna, Tony Galvin, 9th Wonder, Illmind and Lewis Parker to name a few. He has had releases, as well as, been featured on Beyond Real Recordings, Counterflow Recordings, Metatronix, ABB Records, Papa Records (UK), AVX Records, Dusty Vinyl (UK), Handcuts Records (Japan), Rawkus Records as well as his own Badgramma Records imprint. He is currently completing work on The Apartment LP for BBE Records (UK). Dynas started Badgramma Records Inc., an urban independent label committed to the advancement of local South Florida artists. "It is my way of showing the world our diversity and value in the marketplace."(Dynas)
Located @ The Electric Pickle
2826 N. Miami Ave.
Miami, FL 33127
……..Drink Specials:…….
$5 DRINKS // ALL NIGHT
http://www.ChampionSoundMIA.blogspot.com