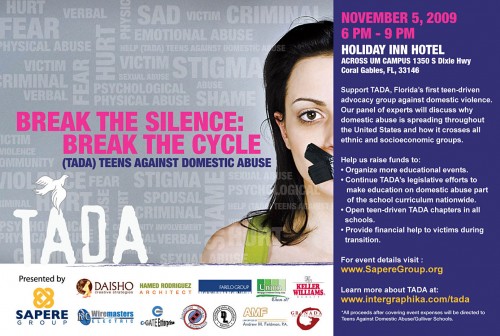 Teens Against Domestic Abuse (TADA)
Presented by Sapere Group
Objective: (a) To raise awareness of domestic violence and TADA, the first Florida organization of its kind, conceived and lead by local teens. (b) To fundraise for TADA to further its cause.
The event will be held on Nov. 5th 2009, at the Holiday Inn Hotel, 1350 S. Dixie Hwy., Coral Gables, Florida, 33146 (across University of Miami) from 6 pm to 9 pm and is presented by SAPERE GROUP.
About TADA: This is an organization with a twofold mission: first to aid victims of domestic violence who are in need through support and the provision of basic necessities and second to educate the public as to the prevalence and destructive nature of domestic abuse. Through these methods, it is the organization's goal to end the cycle of violence and avoid the perpetuation of abuse.
TADA was founded at Gulliver Preparatory School by Emily Martinez-Lanza in September 2008. Since then, the organization has expanded, and is currently in the process of facilitating the opening of chapters in other schools, including Monsignor Edward Pace High School. Gulliver Schools is a 501(c) (3) private, non-profit, independent, coeducational, non-sectarian day school. Tax ID No. 65-0900712.