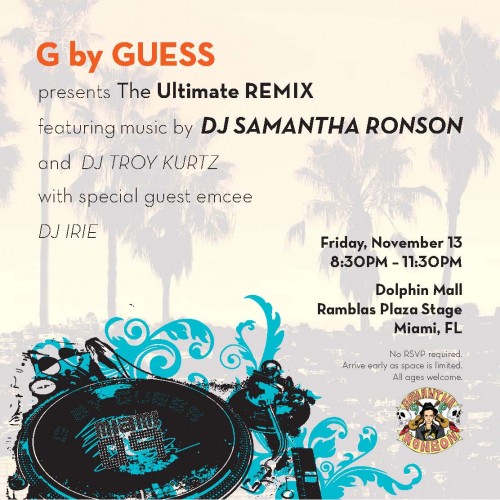 G by GUESS, the latest brand extension from the denim pioneer, kicks off the ULTIMATE REMIX DJ tour in Miami on November 13 with a live DJ set by LA's acclaimed Samantha Ronson. G by GUESS invites everyone to rock out on the dance floor at the Ramblas Plaza in Dolphin Mall with a unique mix of cutting-edge sounds by local dynamo DJ Troy Kurtz starting things off at 8:30pm. Complimentary Rockstar beverages will be provided all night to keep parched partiers refreshed. Among other giveaways, G by GUESS will raffle four Beach Cruisers to lucky winners.
There is no cover charge or RSVP necessary, but space is limited so please arrive early.
ULTIMATE REMIX feat. Samantha Ronson
Friday, November 13
8:30pm – 11:30pm
Dolphin Mall
11401 NW 12 St
Miami, FL
Thank you for using Soul Of Miami!