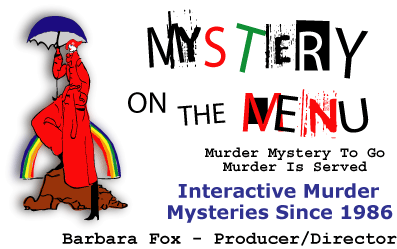 Halloween is approaching…
In the mood for a MYSTERY?
A MURDER investigation?
A fun night of ENTERTAINMENT?
Mystery On The Menu Theater will present an interactive murder mystery at the historic Bakehouse Art Complex in the Wynwood Arts District on Thursday, Oct 29th @ 7pm.
"The Art of Murder" features local actress/writer Barbara Fox. Members of the audience will participate and receive parts to read during the presentation.
A member of the audience is guilty but no one, not even the guilty person, knows the answer until the end. In search for murder clues, midway through, the audience will be invited to ask questions, share information and visit the numerous artist studios within the 33,000 sf converted bakery.
The evening will include the investigation, refreshments, an opportunity to tour the historic facility, and meet the artists in their studios.
Don't Be Clueless… Advanced Reservation Gives You a Head-Start
RSVP by October 25th and receive your first clue. Teams Welcome!
RSVP to Barbara @ 305.864.2430
or info@bacfl.org
Reservations are final, no cancellations
Member Price: $15.00
Non-Member Price: $20.00
Thursday, October 29th 2009 7-9 PM
Bakehouse Art Complex, 561 NW 32nd Street, Miami