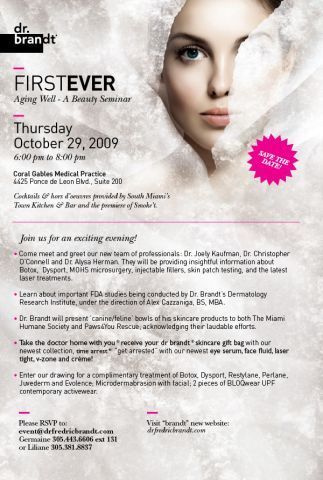 WHO: Internationally known cosmetic dermatologist, Dr. Fredric Brandt and cosmetic surgeon, Dr. Stephan Baker, cordially invite you to an Aging Well beauty seminar on Thursday, October 29th from 6:00 p.m. – 8:00 p.m. at Dr. Brandt's Medical Practice in Coral Gables. Be the first to meet-and-greet with a new team of dermatologist and cosmetic surgeon professionals including Dr. Joely Kaufman, Dr. Christopher O'Connell and Dr. Alysa Herman, and learn insightful information about Botox, Dysport, mohs microsurgery, injectable fillers, skin patch testing and the latest in laser treatments.
Enjoy signature hors d'oeuvres and cocktails compliments of South Miami's Town Kitchen & Bar, with premiere of Smoke't and guests will leave with a take the doctor home with you® skincare gift bag including the newest collection of time arrest® – Dr. Brandt's latest eye serum, face fluid, laser tight, v-zone and crème; as well as enter a drawing to win a complimentary treatment of Botox, Dysport, Restylane, Perlane, Juvederm and Evolence; Microdermabrasion with facial; 2 pieces of BLOQwear UPF contemporary activewear.
The event will also feature Dr. Brandt's 'Canine/Feline' bowl presentation, where he acknowledges the commendable efforts of The Miami Humane Society and Paws4You Rescue's with his skincare products.
WHEN: Thursday, October 29 6PM – 8PM
WHERE: Coral Gables Medical Practice
425 Ponce de Leon Blvd., Suite 200
Coral Gables, FL 33146
RSVP to event@drfredricbrandt.com