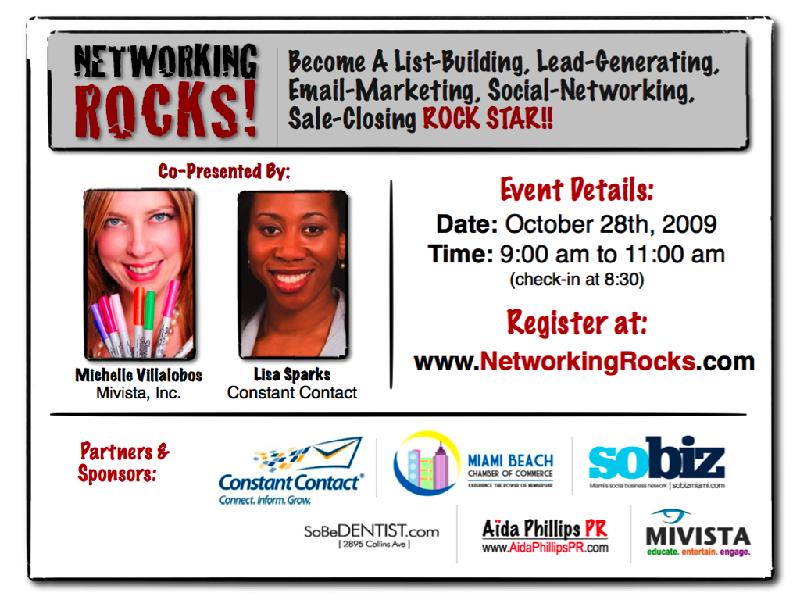 Networking ROCKS!! Become a List-Building, Lead-Generating, Email-Marketing, Social-Networking, Sale-Closing ROCK STAR!!
Is Your Networking Actually Working?
(AKA – is it generating sales?)
You're going to chamber functions, you're shaking lots of hands, getting & receiving tons of business cards, even making friends… but is it actually leading to BUSINESS?
Chances are, your networking isn't working as well as you need it to or as well as it could.
On October 28th join me and my co-presenter Lisa Sparks at the Mondrian on South Beach to learn what you can do to connect all that networking to the bottom line at Networking ROCKS!
This is not a repeat of any previous events, so even if you've attended You The Online Brand, If They Don't Love It, It's Just SPAM, or The Perfect 10 In Sales, this is new. It's all about how you Capture, Build, & Close to turn networking into sales.
Of course, the other benefit of the event is the networking you'll do at the event. SoBizMiami, the Miami Beach Chamber of Commerce, and Constant Contact are all collaborating to make Networking ROCKS! rock.
Details & registration at www.NetworkingRocks.com.
If you've already signed up, I'm sending you this so you can forward it to someone else who you could benefit. It's going to be that good.
Hope to see you there!