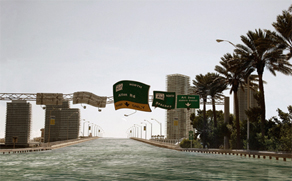 SCIENCE AND CULTURE GET TOGETHER IN "DID YOU KNOW?"
Conference on climatic change in Miami and Latin America with Daniel Mira.
Foto: Tropical Depression by Vicenta Casan.
Program to spread and exchange of knowledge
Global Warming: Science, economy, politics and te future of the planet
Wednesday October 28, 7pm
Lecturer: Daniel Mira, PhD. in Chemical Engineering
World Bank Department of Climate Change for Latin America
Coordinator: Pere Estunpinyá
In Spanish
At CCEMiami. Free Admission
CCEMiami will switch the way we look at science in Miami with the new conference series "Did you know?" that will feature science related activities in an environment that will forever change how we see that subject. Guided by a group of US resident Hispanic researchers we will learn that science is neither a difficult discipline nor a boring one and that is not reserve for just a few alienated beings. Quite the contrary, it can truly engross the audiences if transmitted with passion and closeness.
Science is the most intellectual adventure of the Century. Unfortunately the main characters are not prone to leave their labs and share with society their fascinating knowledge on cosmology, neuroscience, environment, biomedicine or technological revolution.
In "Did you know?" we will discuss climatic changes, new energies, human behavior, evolution, the state of our oceans, genetic revolution, the year of astronomy, science and cooking and many other subjects that will convince participants that science could be as beautiful and interesting as art, literature or film. The series is coordinated by Pere Estupinyà , Estupinyà is a Chemist and Biochemist from Spain who, after a short time as a PhD researcher, moved to science journalism. He has been the editor of REDES, the leading Spanish television program on science, and lectured in Science, Technology and Society at the Ramon Llull University. In 2007-2008 he spent one academic year at the Massachusetts Institute of Technology and Harvard University as a Knight Science Journalism Fellow. He writes about science for different Spanish publications, collaborates on radio programs, gives conferences, and owns an acclaimed scientific blog in El Pais (link: http://lacomunidad.elpais.com/apuntes-cientificos-desde-el-mit/). He lives in Washington DC while working at the National Institutes of Health and writing as a freelance journalist for various Spanish and US media outlets.
The first conference, to be held on October 28 with scientist Daniel Mira from the World Bank will feature interesting data on climatic change and a closer look at how it is impacting Miami as well as Latin America.