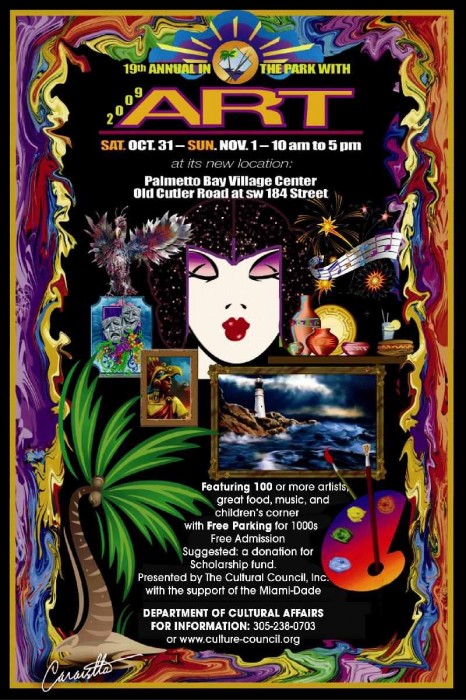 The 19th annual fine art show
IN THE PARK WITH ART will be held on Saturday and Sunday, October 31st and November 1st, this year, at Palmetto Bay Village Center.
The Cultural Council, Inc., was established in 1982 for the purpose of bringing artistic and cultural events to the South Dade community. The Cultural Council is an organization made up of volunteers who are interested in the performing arts and in the betterment of our community.
Since 1983, the Cultural Council had been presenting a fine art juried show, Saturday And Sunday In The Park With Art. This event had been held at the Deering Estate. After Hurricane Andrew in 1990 almost destroyed the Estate, the art show moved to Fairchild Tropical Garden and the Jazz concert to Metro Zoo.
In October 2003, the juried fine art show, Saturday and Sunday in the Park With Art, was held on the lush grounds of Coral Reef Park. It featured nationally known fine artists in two and three dimensional works. There was special entertainment and educational events for children. The excellence of the event interested tourists and residents alike. This event will be held annualy at Coral Reef Park the last weekend of October.