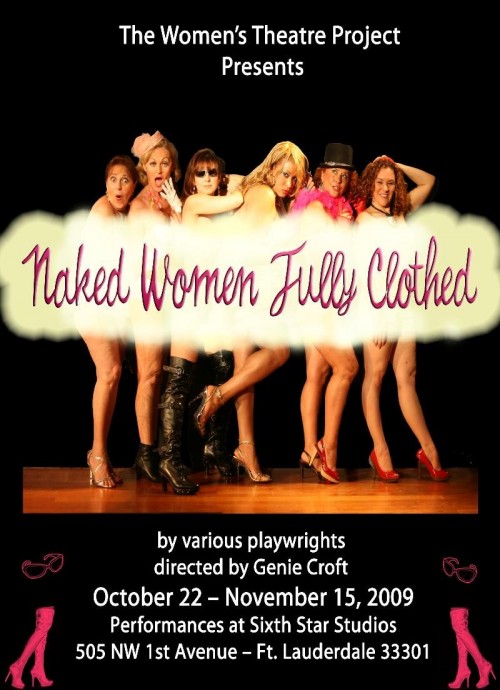 Starring Sally Bondi, Lela Elam, Jacqueline Laggy, Jude Parry,
Carol Sussman and Alisha Todd
A titillating, provocative and humorous collection of short plays and monologues that reveal and lay bare an array of secrets and revelations. Join us and find out just how much we're willing to expose during this evening of sweet and snappy shorts!
October 22 – November 15, 2009
Preview on Thursday, October 22nd
Opening Night on Friday, October 23rd
Performance Times:
Thursdays, Fridays & Saturdays @ 8pm,
Sundays @ 2pm.
Call 866-811-4111 for tickets by phone or purchase on-line at www.womenstheatreproject.com. You may also click here to order tickets.
Adults – $25. / Students – $15. (limited availability)
Special group rates available! Please call our administrative office for details at 954-462-2334.
Cash, checks and all major credit cards accepted. Reservations are strongly suggested due to limited seating. Please arrive early to the venue. Due to the intimate nature of our theatre, latecomers cannot be seated once the show begins.
Performances are at Sixth Star Studios: 505 NW 1st Ave. Ft. Lauderdale, conveniently located one block west of Andrews Avenue at NW 5th Street in downtown Ft. Lauderdale.
Directions from I-95: Take I-95 and exit Broward Blvd heading east. At Andrews Avenue make a left (north). Go five blocks to 5th Street and make a left (west). Go one block to NW 1st Avenue and make a right (north). Sixth Star Studios will be on your left. Free parking on the street.
Join us for an Opening Weekend After Party
On Friday, October 23rd, an exclusive Opening Weekend After Party will be held at the loft of TWTP Producer, Meredith Lasher. Enjoy an evening of complimentary wine and hors d'oeuvres with the cast, crew and director following the Friday evening performance.
For more information please call our administrative office at
954-462-2334.