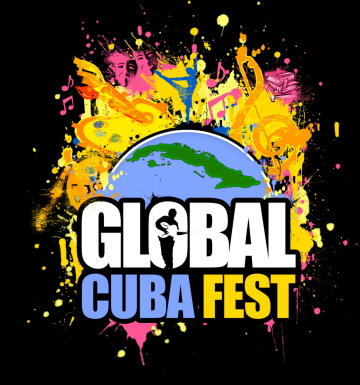 FUNDarte & MIAMI LIGHT PROJECT ANNOUNCE
3rd ANNUAL GLOBAL CUBA FEST LINE UP
PRESENTED DURING SLEEPLESS NIGHT
AT THE FILLMORE JACKIE GLEASON ON MIAMI BEACH
FUNDarte and Miami Light Project are proud to announce the line up for the 3rd Annual Global Cuba Fest. Presented on November 7, 2009 as part of Sleepless Night at the Fillmore on Miami Beach, the 3rd Annual Global Cuba Fest will be an all night free extravaganza of Cuban music featuring Carlos Averhoff Jr and the Iresi Quintet, Br@ily and Jose "Pepito" Gomez.
The evening features a showcase of some of the best of contemporary and time-honored Cuban rhythms, with three extraordinary musical groups mixing the diverse rhythms and genres from around the world to create a new and fresh global Cuban sound!
The night begins with the smooth grooves of the Boston-based Jazz saxophonist Carlos Averhoff Jr. and the Iresi Quintet, followed by a raucous Salsa/Timba "Miami vs. New York" Dance Party between the amazing Miami-based Timba and Salsa trombone player and singer, Br@ily, whose unique electrifying performances show off his non-stop energy and virtuosity and with New York-based vocalist Jose "Pepito" Gomez and his band, hailed by the New York Times as "another order of performer."
Keeping the party going all night, DJs Snowhite and Duni will spin in the Fillmore lobby between performance sets. Born in Cuba, DJ Duni is Miami-based and has been promoting Cuban Music for the last 10 years as partial owner of timbastars.com, a website dedicated to promoting timba throughout the world. Born in Cuba and raised in Queens, DJ Snowhite is one of Miami's leading and most innovative soundscape designers and turntable curators.
Miami Light Project & FUNDarte present
3rd Annual GLOBAL CUBA FEST
at Sleepless Night
November 7, 2009 6:00 pm -12am
6:00pm-9:00pm DJ Snowhite
7:00pm Carlos Averhoff Jr and the IRESI Quartet
8:30pm Br@ily
9:00pm-12:00am DJ Duni
10:00pm Jose "Pepito" Gomez
at The Fillmore Miami Beach at the Jackie Gleason Theater
1700 Washington Avenue, Miami Beach, FL 33139
Tickets FREE
####
FUNDarte & MIAMI LIGHT PROJECT ANUNCIAN
EL TERCER FESTIVAL ANUAL GLOBAL CUBA FEST
QUE TENDRA LUGAR DURANTE EL MAGNO EVENTO
SLEEPLESS NIGHT
EN EL TEATRO THE FILLMORE JACKIE GLEASON EN MIAMI BEACH
FUNDarte y Miami Light Project se sienten orgullosos de presentar el Tercer Festival Anual Global Cuba Fest, que se llevará a cabo el 7 de noviembre de 2009 en el teatro Fillmore Jackie Gleason de Miami Beach, como parte de las actividades del evento Sleepless Night.
El Tercer Festival Anual Global Cuba Fest será un gran espectáculo gratuito que durante seis horas y permitirá disfrutar de la mejor música cubana con Carlos Averhoff Jr. y el Quinteto Iresi, Br@ily y José "Pepito" Gómez. La noche ofrece una muestra de los mejores ritmos cubanos desde los ya consagrados a los más contemporáneos. Estos tres extraordinarios grupos musicales mezclan diversos ritmos y géneros del mundo para traernos un nuevo y fresco sonido cubano global. Para abrir este festival viene desde Boston el reconocido saxofonista de jazz Carlos Averhoff Jr. junto al quinteto IRESI, seguido por una fiesta bailable de Salsa/Timba "Miami vs. New York" entre el trombonista y cantante de Miami Br@ily y el vocalista José "Pepito" Gómez de Nueva York.
Por otra parte, coexistiendo con los espectáculos en el escenario, en el vestíbulo del Fillmore estarán los DJ Snowhite y DJ Duni que mantendrán la fiesta en esta noche sin pausa.
FUNDarte & Miami Light Project
Presentan
El tercer festival anual
GLOBAL CUBA FEST
durante el evento
Sleepless Night
Sábado, 7 de noviembre de 2009
6:00pm-9:00pm DJ Snowhite
7:00pm Carlos Averhoff Jr y el Quinteto IRESI
8:30pm Br@ily
9:00pm-12:00am DJ Duni
10:00pm José "Pepito" Gómez
The Fillmore Miami Beach at the Jackie Gleason Theater
1700 Washington Avenue, Miami Beach, FL 33139
Entrada GRATIS